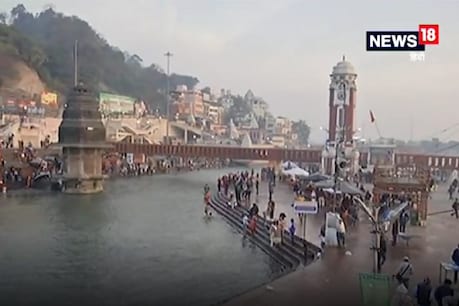 Artificial intelligence system will be adopted for security in Kumbh in Haridwar this year.
Artificial intelligence system has been installed to keep an eye on the gathering crowd in Haridwar (Kumbh). The administration has made this arrangement for the safety of the people.
News18No

Last Updated:January 27, 2021 10:56 PM IS
Haridwar.
The administration will use the Artificial Intelligence System to keep an eye on the crowd in Kumbh starting in Haridwar. The administration has adopted this system keeping in mind the security of the people. In Kumbh, one of the largest religious events in the world, every person should be safe. In view of all the things, the mob has decided not to mobilize itself anywhere.
Kumbh Mela IG Sanjay Gunjyal informed that in view of the security of Kumbh Mela, a large number of security forces have been deployed. At the same time, the fair will be controlled from the control room, for which a special artificial surveillance system is being used. So that every activity going on in the fair can be monitored.
In Haridar, a network of CCTVs is being laid from the Chowk intersection to the bus station and from the Ganges Ghats to the railway station. Drones will also be used in this Kumbh with 300 and a half cameras. Therefore, the control room prepared in 2010 is being upgraded. Following the rules of Corona on the one hand, and the safe organizing of Kumbh on the other hand, both things have increased the tension of the administration.
Uttrakhand News: Chief Minister Trivendra Singh Rawat adjourned Almora District Development Authority to Almora
For the first time, artificial intelligence is being used in Haridwar Kumbh. That is, every action happening every second will be closely monitored by machines and cameras. So that the work of police administration can be done easily. Please tell that this time the Kumbh Mela in Haridwar will start from Sunday 9 April and will end on Monday 8 May.
The Haridwar Kumbh Mela is to begin from 27 February. Notification will be released soon. On the other hand, after the release of Kumbh's SOP from the Union Health Ministry, the exercise of arrangements intensified. There is a continuous period of speculation about the beginning of Kumbh. Meanwhile, the government has fixed the date for the Kumbh. Urban Development Director Vinod Kumar Suman said that the Haridwar Kumbh will begin on February 27. For the time being, it has been decided that Kumbh will run till April 30, but in the meantime if the letter received from the Central Government is considered, then the period can be decided till the end time.