Priyanka Chopra (Photo credit: Instagram / @ priyankachopra)
Actress Priyanka Chopra (Priyanka Chopra) has shared an incident in which she told how the zip of her dress was broken before the ears.
News18No

Last Updated:January 29, 2021, 12:33 AM
Mumbai.
Bollywood's well-known actress Priyanka Chopra is very active on social media. She is seen sharing interesting posts with her fans on the day. Recently, Priyanka has come in the headlines for some similar reasons. He has shared an interesting anecdote related to the Cannes Film Festival on his social media account. In which he said that just a few minutes before landing on the red carpet, the zip of his dress was broken. Despite this, he showed confidence to get on the red carpet. In this, his team supported him a lot.
Priyanka Chopra has shared very beautiful photos from her Cannes Film Festival on her Instagram account. In these photos, she is seen walking on the red carpet wearing a stylish black dress. Seeing the confidence of her face, you will not be able to guess how much she was worried about her dress. Priyanka has revealed this entire incident about the caption of this photo. See here the post shared by Priyanka-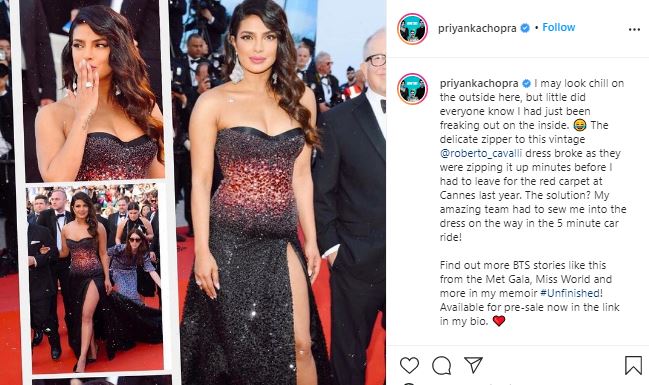 Post shared by Priyanka Chopra (Photo credit: Instagram / @ priyankachopra)
Priyanka Chopra wrote in the caption- 'I look calm from outside but hardly anyone knows that I was getting badly disturbed from inside. The zip of this vintage @roberto_cavalli dress was broken, while it was being plated, it all happened when I had just a few minutes left to get on the red carpet at Cannes last year. Solution to this? My amazing team stitched my dress in Cannes in a 5-minute way! " Along with this, Priyanka further wrote- 'Learn about similar BTS stories at the Met Gala, Miss Word and many more in my memoir #Unfinished'.