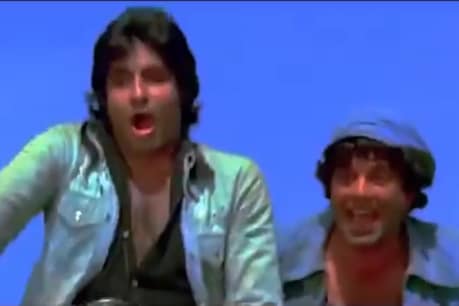 UP Police shared video (Photo Credit- @ Uppolice / Twitter)
Uttar Pradesh Police has shared a video of the film 'Sholay' and explains why 'Jai and Veeru's friendship was broken'. An important lesson has also been given through this video.
News18No

Last Updated:January 28, 2021 7:55 PM IS
Mumbai.
Along with entertaining the audience in Bollywood films, many important lessons are also given at times. Recently, such a lesson was used by the Uttar Pradesh Police through social media to make people aware of road safety. This lesson was given through a video of the Bollywood classic film 'Sholay'. In which the film's lead actors Amitabh Bachchan and Dharmendra are seen. The UP Police has asked how their friendship was broken in the film and through the video itself they have given the answer.
Actually, recently the UP police has shared a video on their Twitter account. This video is 'Ye Dosti' from the film 'Sholay'. In this video, Jai and Veeru are going on a bike and singing in fun. By editing this video, UP police has finally put a video of the accident. Through this, a very important lesson has been given on road safety. While sharing the video, people have been asked – 'How did Jai and Veeru's friendship break?' And the answer is also given through video-
क्यों क्यों Why did Jai and Viru break their friendship?#UPPKeSholay pic.twitter.com/vxxtysLdai

— UP POLICE (@Uppolice) January 27, 2021
On this video, warning has been written – 'Na Bachagi Zindagi, Na Banega Dosti. Performing a stunt while driving is a crime and it can be fatal '. The hashtag # safety_ize_ed_new_cool has also been shared while sharing this message.