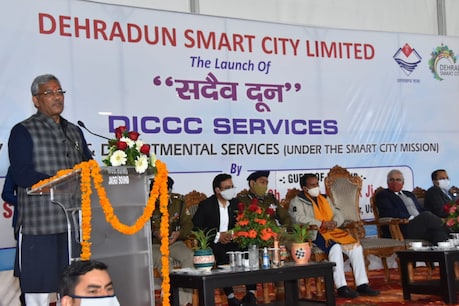 CM Rawat said that Prime Minister Modi has launched a new vision of smart city in the country.
The city of Dehradun has become smart now. The city will be monitored from the traffic control and command center starting here. This will be done through 5000 CCTV cameras. Also, other problems can be overcome.
News18No

Last Updated:January 30, 2021, 8:42 AM IS
Dehradun. Dehradun, the capital of Uttarakhand, has to be monitored on the market or if there is a water problem in one of your neighborhoods, there is a traffic jam, you are disturbed by a pile of garbage, or there is an invoice for breaking traffic rules. Yes, now 5000 cameras connected to one command and control center will help solve all these problems, while keeping an eye on the entire city.
Apart from this, every train going to and from the city will be entered in the command control center. The automatic message of the invoice will reach the mobile if the rules are broken. Apart from this, you can also lodge a complaint in the toll free number. The department with the complaint will have to resolve it in due time. It is clear that while the Command and Control Center will remove all the problems, the sight of 5 thousand cameras across the city that will be controlled from here will make you feel safe 24 hours.
CM Trivendra Singh Rawat, who arrived to inaugurate the works of Smart City, said that better works are being done in Dehradun's smart city, it will also serve as inspiration for other cities. There has been a rapid increase in traffic in the state in the last 20 years. According to the time, the use of modern technology is very important. The model of smart city will prove to be very effective in fixing the systems through technology and in solving public related problems. The center of the smart city will facilitate in controlling all the problems.
CM Rawat said that Prime Minister Modi has launched a new vision of smart city in the country. The result of this is that in 100 cities of the country, works are being done under Smart City. Better work is being done in these cities. Demand for making other cities smart cities is also increasing. As a result of Prime Minister Narendra Modi's clear thinking and determination, today the country is developing in every field. The smart city has multifaceted consequences.