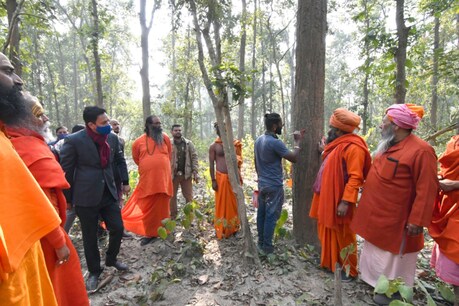 SOP is yet to be issued by Uttarakhand government.
Mahakumbh (Kumbh) will begin with a bath on Magh Purnima on 7 February. The akhadas have also started their preparations. On Sunday, the akhadas marked the trees for the Dharmadhwaja, a symbol of honor.
Dehradun.
The countdown of Mahakumbh 2021 (Haridwar Kumbh 2021) has started. Akhads have also started preparing in their preparations. On Sunday, the akhadas marked the trees for the Dharmadhwaja, a symbol of honor. Meladikari Deepak Rawat reached the forest of Chidderwala along with saints and saints himself as part of the tradition of providing wood for their religious flag. Here trees were selected and marked on them. Meladhikari Deepak Rawat said that the trees have become a mark for the flag of religion. When the order of the Akharas will be ordered, the trees will be delivered following the tradition of the Akhada at the appropriate time. He said that its symbolic significance is very much. Akhara Parishad President Mahant Narendra Giri was also present on the occasion.
With the bath of Magh Purnima on February 7 Mahakumbh Will begin In view of this, the deadline for completion of all works of temporary nature has been fixed for February 15. The work of laying electricity and drinking water lines in the entire fair area divided into 23 sectors has been started at the war level. In the Mela area, temporary pipeline work is going on in areas like Dakshadeep, Sati Island, Bairagi Camp, New Island etc. The work of installing three and a half thousand electric temporary poles and more than two and a half thousand street lights is also going on in the entire fair area.
Also read: Haridwar Kumbh 2021: brake on special train, COVID negative report required, old age will not get entry
Medicines will also be distributedOn Sunday, Additional Magistrate Ramji Sharan Sharma also took a meeting of the officials in view of the arrangements. Officials of the AYUSH department said that land has been identified at four places for setting up a medical camp at Kumbh. In Kumbh, along with distribution of medicines, herbs and yoga will also be demonstrated. Apart from giving space for cultural programs, officials of Culture Department also demanded some more budget. It was told that on April 24 and 25, there will be a congregation of Devdolis in Kumbh. Arrangements are yet to be made for this. However, SOP is yet to be issued by the state government for the Mahakumbh of this time being held in Kovid period. The Center has imposed many strict rules in its guidelines. According to the central guideline, no devotee will enter the fair area without the RTPCR negative report of Kovid. It is believed that the state government can reduce the number of devotees daily by keeping the strictness in its guidelines.