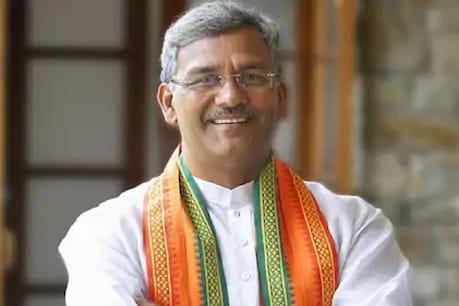 CM Trivendra Singh Rawat said that employment can be created in the state by adopting Local for Vocal (file photo)
Chief Minister Trivendra Singh Rawat (Trivendra Singh Rawat) said after listening to the Prime Minister's 'Mann ki Baat' program, we have also decided on it in the Cabinet tomorrow (Saturday). Local For Vocal is our resolution this year. We will expand it more quickly. Local is more likely to generate employment
News18No

Last Updated:January 31, 2021 5:54 PM IS
Dehradun.
Prime Minister Narendra Modi's monthly radio program 'Mann Ki Baat' is liked all over the country. On Sunday, for the 73rd time, the Prime Minister discussed his 'Mann ki Baat' from national issues to local issues. After hearing this, the Chief Minister of Uttarakhand Trivendra Singh Rawat praised the views of the Prime Minister. He said that Prime Minister Narendra Modi is the guardian of all of us. Their focus is on Local For Vocal, Uttarakhand Government will also implement it.
CM Rawat said that on the last Sunday of every month, he sits down to listen to the 'Mann Ki Baat' program. Follow the Prime Minister's words deeply. He is our guardian and we get a lot of inspiration from him. After listening to the new version of the Prime Minister's 'Mann Ki Baat' on TV at his residence, the Chief Minister said that the people of the country were shocked by the incident in the Red Fort on the holy day like 26 January. The nation has to be vigilant with the elements that want harm. We all have to take the country forward under the leadership of Prime Minister Modi with renewed hope and enthusiasm. We have fought a long battle against Kovid-19. Now we are getting success in it. Our country has prepared its own vaccine to remove people from danger.
He said that it is the efficient and visionary leadership of Prime Minister Modi, due to which today the whole world is taking inspiration from India. The vaccination campaign is running successfully in a phased manner. The Prime Minister has called for liberation from single use plastic. We have also decided on this in the cabinet yesterday (Saturday). Vocal for local is our resolution this year. We will expand it more quickly. There is more possibility of generating employment from local.