Mumbai.
Films released in the year 2000 have also become very old now. However, after hearing the names of some films of that time, we do not feel that it has been 21 years since these films were released. The year 2000 was special for many reasons. That year, many such stars started their Bollywood careers, which today
Bollywood
There are superstars and some such actors also came into the film world that year, which have almost disappeared from the big screen.
Time passes by very quickly and only a few memories are left behind. In 2021, we remember some films which were released in 2000 and which have been 21 years since their release.
1. Kaho na pyaar hai: Hrithik Roshan and Amisha Patel made their Bollywood debut with this film. Hrithik is a Bollywood superstar today, but Amisha's career could not do much. This film was one of the superhit films of the year 2000 and the songs of this film are still on people's tongue.
Hrithik Roshan and Ameesha Patel made their Bollywood debut with this film.
2. Love: In this film, we saw superstars like Amitabh Bachchan, Shah Rukh Khan, Aishwarya Rai Bachchan, while there were 6 actors – Uday Chopra, Shamita Shetty, Jugal Hansraj, Kim Sharma, Jimmy Shergill and Preeti Jhingyani stepped on the film screen. The film is still remembered for its songs and dialogues.
3. HERA PHERI: 'Hello, Kabira Speaking.' Every scene of this cult classic is still fresh in people's minds. Paresh Rawal, Sunil Shetty and Akshay Kumar Starr Although the release of this film has been 21 years, but even today people watch it with the same interest as before. No one can ever forget this film.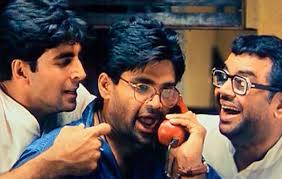 Paresh Rawal, Sunil Shetty and Akshay Kumar
4. Passion: It was an action-drama film based on the real state deal of the 80s. Shah Rukh Khan, Aishwarya Rai Bachchan and Chandrachud Singh were in important roles in the film. Shahrukh and Aishwarya were in the role of siblings in the film. But do you know Salman Khan was the first choice for this film? And, were you in Team Scorpion or Team Eagle?
5. Pulsation: Released in 2000 after almost five years of shooting, the film featured Akshay Kumar, Shilpa Shetty and Sunil Shetty in the lead roles. It is one of the successful films of Shilpa Shetty. The songs and the story of this romantic-drama film were well liked by the audience.
In this film, Akshay Kumar, Shilpa Shetty and Sunil Shetty were in the lead role.
6. Fair: In this film, Aamir Khan, his brother Faizal Khan and Twinkle Khanna were in the lead role. This film could not show anything special at the box-office, but some of these people still like it very much.
7. Every Heart That Will Love: This Hindi remake of the Malayalam film 'Chandralekha' was very much loved by the people. Salman Khan, Preity Zinta and Rani Mukerji were in the lead in this romantic-comedy film. Shahrukh Khan had a guest appearance in the film.
Apart from these films, 'Astitva', 'Mission Kashmir', 'Pukar', 'Raju Chacha', 'Fiza', 'Hey Ram', 'Kya Kehna', 'Tornado', 'Dr. Babasaheb Ambedkar', ' Hari Bhari ',' Jungle ',' Joru Ka Ghulam ',' Baghi 'and' Had Kar Di Aap 'were also released.