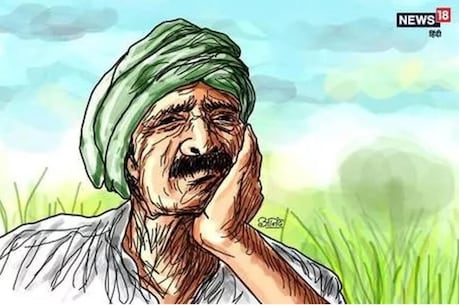 PM Kisan Samman Nidhi (Pm kisan samman nidhi)
Finance Minister Nirmala Sitharaman (Fm nirmala sitharaman) has made several special announcements in the budget. Has also announced a cut in the budget given to farmers under the PM Kisan Samman Nidhi (Pm kisan samman nidhi)… Will the farmers' installments be reduced by cutting the budget of this Kisan Samman Nidhi
News18No

Last Updated:February 2, 2021, 6:35 PM IS
new Delhi:
Finance Minister Nirmala Sitharaman (FM Nirmala Sitharaman) has made several special announcements in the budget. A cut has also been announced in the budget given to the farmers under the PM Kisan Samman Nidhi (PM-KISAN Samman Nidhi). Will the installment of farmers also be reduced by cutting the budget of this Kisan Samman Nidhi? Earlier people sat hoping that the budget of PM-KISAN could be increased, but the government has cut it to the contrary.
According to the news of money control, let us tell you that the budget given by the government in the year 2020-21 has not been spent by the Ministry of Agriculture yet, due to which the government has cut the fund this time.
Also read: What did the 6 major hospitals of the Center, including AIIMS, get in the budget, know whose funds were reduced and who benefited
Why has it been cutExplain that in the fiscal year 2020-21, 75,000 crore rupees were given under PM Kisan Samman Nidhi. 65,000 crore has been given for this scheme in fiscal year 2021-22. In the current fiscal year, the Ministry of Agriculture has spent 65,000 crores. Perhaps this is the reason why the government has cut the budget.
What will be the effect on farmers?
Let me tell you that there will not be any cut in the installment that the farmers get, that is, the amount of money the farmers would get. Farmers will continue to get annual rupees as before.
What is the scheme?
Pradhan Mantri Kisan Samman Nidhi Yojana has been run by the central government in the interest of farmers, under which 3 installments of Rs 2000, ie 6000 rupees annually, are transferred to the farmers' account. Please tell that an installment comes in 4 months. A total of 11.5 crore farmers have been registered under this scheme so far. The scheme came into force on 1 December 2018. This money is directly transferred to the bank accounts of the farmers.
Also read: Gold Price Today: Buy Cheap Gold Instantly, Price Dipped After Custom Duty Reduced!
You can also get information on the helpline
>> PM Kisan Helpline Number: 155261
>> PM Kisan Toll Free Number: 18001155266
>> PM Kisan Landline Number: 011—23381092, 23382401
>> PM Kisan has another helpline: 0120-6025109
>> Email ID: [email protected]