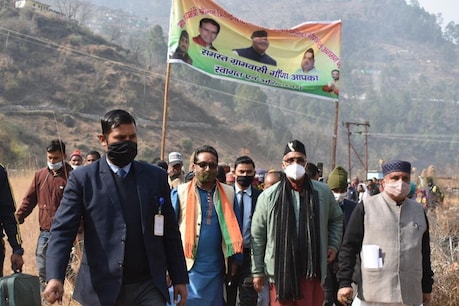 Chief Minister Trivendra Singh Rawat arrives in the Dharmi Valley of Chamoli.
Chief Minister Trivendra Singh Rawat arrived in the inaccessible area of ​​Chamoli in Uttarakhand. After announcing the revival of Durmi Tal, the local public organized an honor ceremony to welcome the CM.
News18No

Last Updated:February 3, 2021, 3:32 PM IS
Gopeshwar
Chief Minister Trivendra Singh Rawat on Wednesday reached a valley in Chamoli district, where no Chief Minister of the state has reached since the independence of the country. For the first time in 70 years of independence, CM Rawat came to meet the public in the inaccessible valley called Durmi. After reaching here, local people respected Chief Minister Rawat. On November 9, on the occasion of the State Foundation Day, an honor ceremony of the CM was organized to announce the reconstruction of the historic Durmi Tal (pond).
After reaching the Durmi Valley, Chief Minister TS Rawat made more than a dozen announcements, including the opening of a primary health center in the Durmi-Nizamula Valley. He announced plans for infrastructure development of Badrinath assembly constituency. In the honor ceremony, CM said that the state government is planning to remove the burden of grass from the heads of women of the mountain. To implement this, funds will be announced in the upcoming budget. This plan will be completely rolled out in the next five years.
Let us tell you that 14 Gram Panchayats are included in the Durmi Valley. The population of the valley is about 8000. There is still much to be done in this valley in terms of development and infrastructure. The people of this place have been demanding for the past several years to rebuild the broken Durmi Tal in the floods of 1970, which was announced by Chief Minister Rawat in the past. Regional MLA Mahendra Bhatt, BJP District President Raghuveer Bisht, Minister of State for Ripudaman Singh Rawat, Chairman of District Cooperative Bank Chamoli, Gajendra Singh Rawat, etc. were present on the occasion of Chief Minister's honor ceremony.