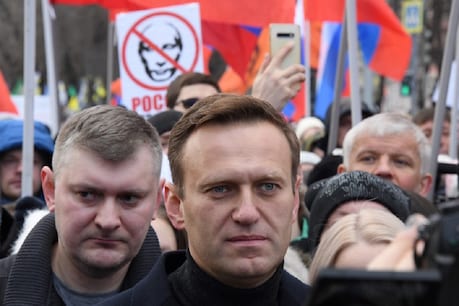 Alexei Navleni punished (Photo-AP)
Russia Alexei Navalny Latest News: A Russian court sentenced opposition leader Alexei Navalny to prison. The US has reacted strongly to this decision and demanded their early release.
AP

Last Updated:February 3, 2021 10:32 AM IS
Moscow.
A Moscow court in Russia convicted Russian opposition leader Alexei Navalny for violating bail conditions while undergoing treatment for a nerve agent attack on him in Germany. Is sentenced to. The US has reacted strongly to the punishment of Navleni and demanded that he be released soon.
Punishment verdict demonstrated in Russia
Protests took place in Moscow and St. Petersburg to protest the court's decision. Navalny, a bitter critic of President Vladimir Putin, called the court action a false attempt to intimidate millions of people in the country.
After the verdict was delivered at around eight o'clock at night, protesters gathered in several areas of central Moscow and at the Nevskai Prospect, the main site of St. Petersburg. The riot police caught the protesters and put them in police vehicles. The website 'Meduja' showed in a video that the police was pulling a passenger and a taxi driver from the vehicle.Instant response from america
US Secretary of State Tony Blinken said after the court order, 'We reiterate our demand to the Russian government to release Navalnyi immediately and unconditionally, as well as in recent times to gather peacefully and freedom of expression For example, they demand the release of those who are exercising their rights from custody.
Poison was given to the opposition leader Navleni
These protests lasted till late one o'clock in the night. An organization said at least 650 people were detained during this period. Navalny (44) was arrested on January 17 after returning from Germany, he was undergoing treatment in Germany for five months following a nerve agent (poison) attack. He blamed the Russian government for the nerve agent attack on him. However, the Russian government denied his allegations and said that no evidence of poisoning was found.
Navleni smiled after punishment
While the order was read, Navleni smiled and looked at his wife, and engraved a heart figure in the mirror. When the guards were taking them, the opposition leader said, "Everything will be alright."