Many Bollywood celebrities are reacting to this post of Rihanna.
This movement became popular in the world as soon as the pop star Rihanna supported the ongoing peasant movement in India. Rihanna made a tweet in support of the movement on which thousands of people have retweeted.
News18No

Last Updated:February 3, 2021, 9:26 PM IS
new Delhi.
American pop singer in support of the farmers movement camping on Delhi border for almost two months
Rihanna
The matter has come into further headlines due to the landing. Rihanna tweeted with a CNN article that 'Why are we not talking about it? Along with this, the hashtag 'Kisan Movement'. After this post, there are constant comments in protest and support. Rihanna's tweet went viral. Rihanna has 100 million followers on Twitter.
Many Bollywood celebrities are reacting to this post. First, Kangana Ranaut reacted in her own way, writing that "Nobody is talking about them because they are not farmers. They are terrorists who are trying to break India. So that China breaks our weak We could occupy the nation and make a colony like Chinese. Sit down, fool, we are not selling our country like a dummy. "
(Photo courtesy: Printshot Twitter)
At the same time, TV star Shruti Seth has reacted to Rihanna's tweet. If he believed, the way the vocal movement should have been raised about the farmer movement, now it started after Rihanna's tweet. While angry at Rihanna's post, TV actor Nakul Mehta wrote that why Rihanna's tweeter handle was not suspended.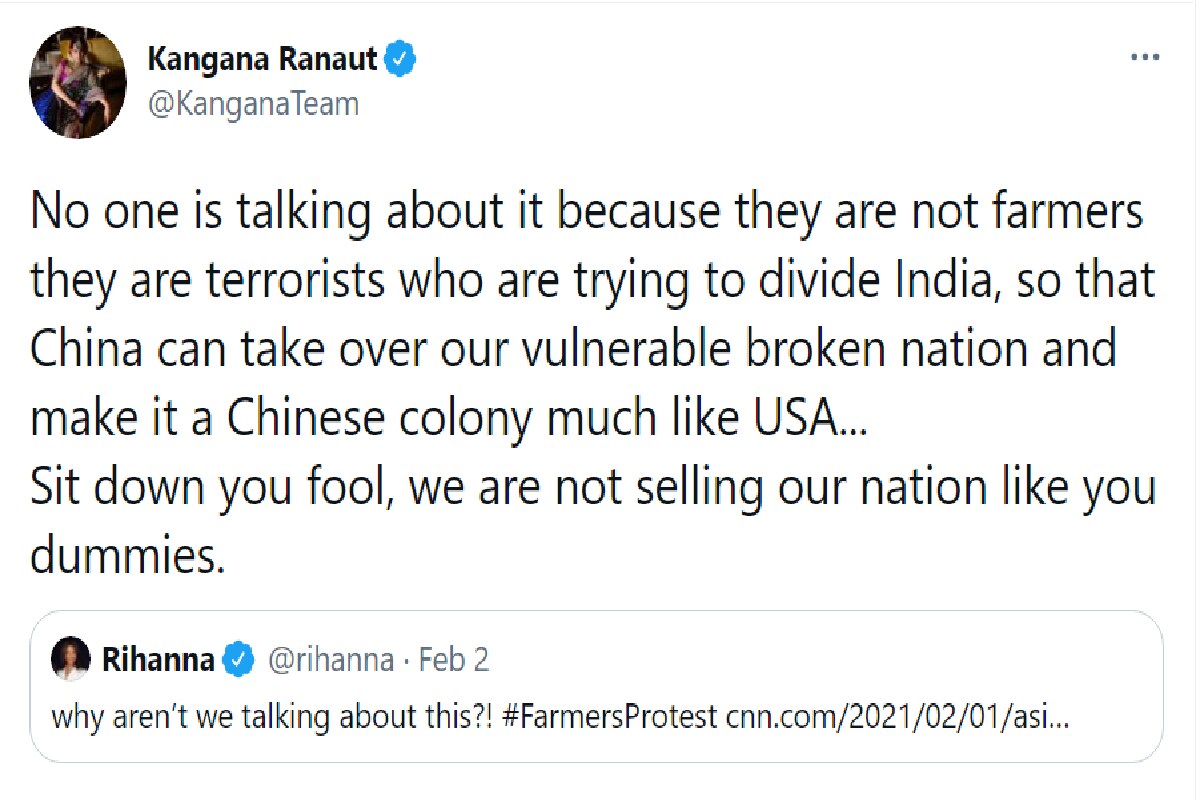 (Photo courtesy: Printshot Twitter)
Apart from this, singer and actor Diljit Dosanjh has shared Rihanna's photo with a story on Instagram without saying anything that he is in support of Rihanna's post. At the same time, Swara Bhaskar and Richa Chadha also expressed their support through emoji. At the same time, actress Bani Dandekar has expressed her anger by just writing 'THIS' while sharing that tweet of Rihanna on Insta Story.
American pop singer Rihanna, who started her career at the age of 17, is considered one of the biggest celebrities in the world of pop music. Rihanna often raises her voice on big issues. This is not the first time Rihanna has been vocal in this way and is supporting any movement. Earlier, apart from the issue of LGBT, she has raised her voice on domestic violence as well.