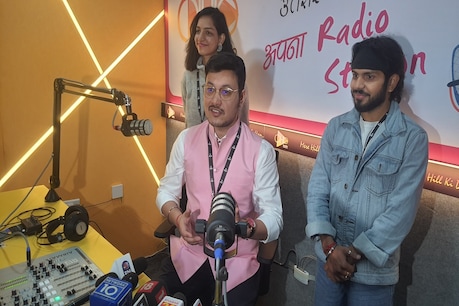 Uttarakhand Chief Minister Trivendra Singh Rawat has launched the first digital radio in the state.
'Oho Radio Uttarakhand', the first digital radio station of Uttrakhand (Uttrakhand) has been launched. It was inaugurated by Chief Minister Trivendra Singh Rawat.
News18No

Last Updated:February 3, 2021, 3:50 PM IS
Dehradun.
'Oho Radio Uttarakhand', the first digital radio station of Uttarakhand (Uttarakhand) has been launched. RJ Kavya, who has 12 years of experience in the world of radio, has established an App Based Digital Radio Station. Chief Minister Trivendra Singh Rawat (CM Trivendra Singh Rawat) inaugurated it on Wednesday. Kavya has also worked in FM radio earlier. At that time, 'Ek Pahadi Aisa Bhi' program was highly appreciated for poetry.
RJ Kabya says that 'Oho Radio' will give its voice to everything related to music, literature, sports, career, migration, society and Uttarakhand with the vision of 'Soch Local, Approach Global ". One can listen comfortably even at 2G Internet speed. Originally, Kumaon resident RJ Kavya was asked how the concept of digital radio station came to his mind, Kavya said that when he worked in radio in Rajasthan He had a hard time in his mind that his people could also listen to his voice.
Dehradun News: Trivendra Singh Rawat is going to break the myth related to CM and CM residence in Uttarakhand
Kavya says that once in the last 12 years, his mother never heard his voice on the radio. The idea of ​​a digital radio station came into his mind about this matter. Today, Internet is available anywhere in every village. By going into digital mode, now anyone can listen to the radio anywhere through the app. Now there will be no limit to its limits. After the launch of the state's first radio station in Uttarakhand on the initiative of a young man, people will get the news of one city easily to other countries and states. Also it will help to make people aware in the mountains.