New Delhi. The capital of the country may soon become pollution free. Recently, the Delhi government started the switch campaign. In which the campaign is being run to promote the use of electric vehicles. With this initiative of the Kejriwal government, a large number of people have started switching to electric vehicles in the country's capital Delhi. In such a situation, Delhi CM Arvind Kejriwal has given information by tweeting that, 'The progressive e-vehicle policy of Kejriwal government has made Delhi' the cradle of India's EV revolution '. Along with this, he has also shared a photo in which some of the main things of the electric vehicle policy are explained. Let's know everything about it
Charging stations will be available every 3 kilometers The Delhi government has planned to provide charging stations every 3 km to force the infrastructure of electric vehicles. So far 70 of these charging stations have been prepared by Delhi Chief Minister Arvind Kejriwal. At the same time preparations are underway for 100 charging stations.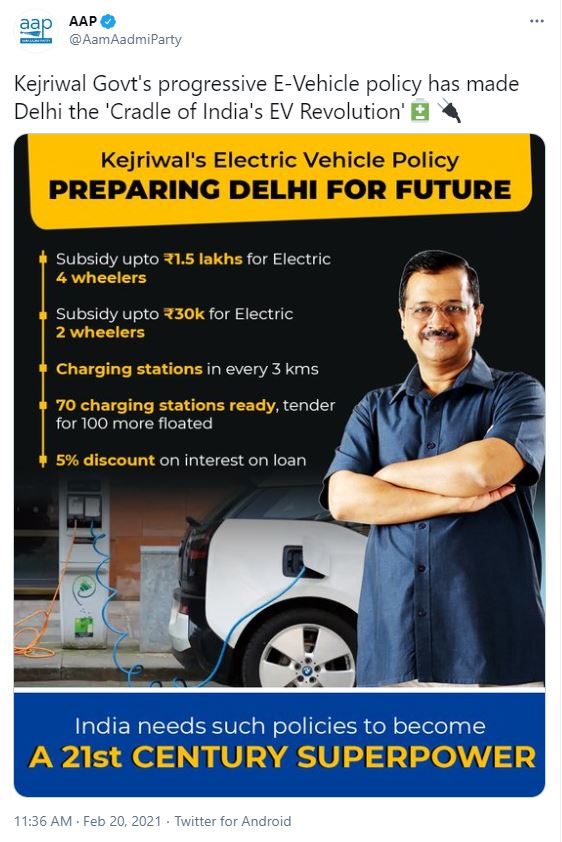 Electric two wheeler and four wheeler are getting subsidy- The Delhi government is currently giving a subsidy of 30 thousand rupees for buying a two wheeler and 1 lakh 50 thousand rupees for purchasing a four wheeler. With this, the Delhi government has decided to waive road tax and registration fees for purchasing electric vehicles. On the other hand, if you buy an electric vehicle loan, you will also get 5 percent discount on interest.
Also read: Interior and exterior features of 2021 Jeep Compass, see everything here
22 thousand rupees to be saved from electric two wheeler According to the estimates of Delhi government, if a person buys an electric two wheeler. So in his month, there will be a saving of Rs 1,850 to 1,650 compared to petrol vehicle. In this case, you can save up to 20 to 22 thousand rupees in a year.