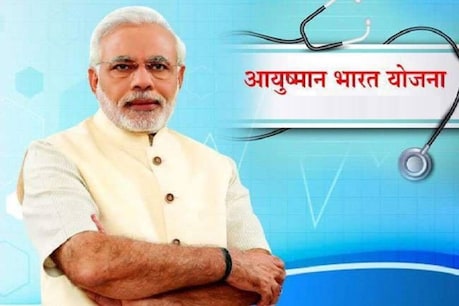 Ayushman Bharat Prime Minister Jan Arogya Yojana
The government has waived the fees charged under the Ayushman Bharat Pradhan Mantri Jan Arogya Yojana (PM-JAY) on Friday. Now the beneficiaries can buy their eligibility card for free.
News18No

Last Updated:February 20, 2021 9:23 AM IS
New Delhi.
Under Ayushman Bharat Pradhan Mantri Jan Arogya Yojana (PM-JAY), beneficiaries can now buy their eligibility cards for free. The government on Friday waived the Rs 30 fee charged on the card. The beneficiaries had to pay this fee at the Common Service Center. However, for issuing duplicate cards or reprints, the beneficiaries will be charged by CSC excluding tax of Rs 15.
Explain that the National Health Authority (NHA) has entered into an agreement with the Common Service Centers (CSCs) under the Ministry of Electronics and Information Technology. Due to which people will now get Ayushman Bharat Entitlement Card for free. Under this agreement, now beneficiaries will get PVC Ayushman card and its delivery will also be easy.
Printing on PVC will make maintenance easier
The government said that Ayushman cards are available in any hospital of PM-JAY, although it is issued for free and it will be issued free of cost even further. NHA CEO Ramsevak Sharma said that these cards will replace paper cards. Being printed on PVC will make it easy to maintain this card and like ATMs, beneficiaries can easily carry their purses anywhere in their pocket.Also read: Important news for jobbers! Government may change salary ceiling for PF deduction
Card is not necessary to take advantage of the scheme
This card is not mandatory for availing the benefits of Ayushman Bharat Pradhan Mantri Jan Arogya Yojana, but it is part of the mechanism of identification and verification of beneficiaries to keep patients from getting uninterrupted of health services and to prevent any kind of misconduct and fraud is.
Treatment will be done anywhere in the country
Ramsevak Sharma said that the people will benefit from getting this card for free. With this card, you will be able to get your treatment for free in any hospital anywhere in the country.
Also read: Electric cart will be compulsory for government officials and ministers! Nitin Gadkari suggested
Under the Memorandum of Understanding, it has been decided that the National Health Authority (NHA) will pay a fixed amount of Rs 20 to the Common Service Center (CSC) for issuing Ayushman cards for the first time only.