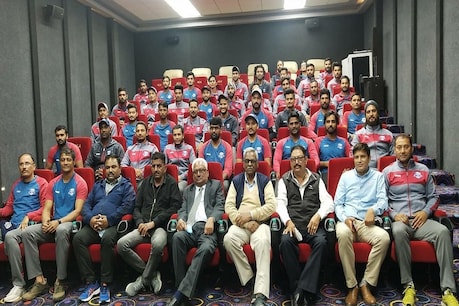 Another controversy in Uttarakhand cricket team (Photo-Uttarakhand Cricket Association Facebook)
Uttarakhand Cricket Association (CAU) is in controversy, after Wasim Jaffer's resignation from the head coach, now a ban player has been selected for Vijay Hazare Trohpy 2021
News18No

Last Updated:February 20, 2021 8:16 PM IS
New Delhi
. Cricket Association of Uttarakhand is once again in controversy, this time the Sangh ignored BCCI's orders and sent only one ban cricketer from Haldwani for Vijay Hazare Trohpy 2021. However, CAU members say that they are not aware of it. Due to age fraud, the BCCI has banned one of Haldnani's cricketers from 2018 to March 2021 but CAU selectors sent him to Chennai with the team, although he has returned without playing a match.
By the way, in the 22-member team of former coach Wasim Jaffer, that player was informed. When this was talked to the treasurer of CAU, he says that they will take up the issue and how such negligence has been done and it will be investigated.
Vijay Hazare Trophy: Jharkhand captain Ishan Kishan played an explosive innings of 173 runs, 142 runs with just fours and sixes.
The matter of selecting a ban player in the teamUttarakhand Cricket Association treasurer Prithvi Singh Negi said that the Cricket Association is a shocking decision not to take the advice of members in Uttarakhand, before other members of CAU have also lodged a protest, saying that one man army show is going on at CAU. It is being done, that only the work is being done here only by the will of the secretary, neither the selectors are asked here, nor the will of the coach is run, only one man is running the entire association, no advice is taken from anyone here . The association's members are now becoming vocal and before that, in the Cricket Association of Uttarakhand, coach Wasim Jaffer resigned from his post, making similar allegations.