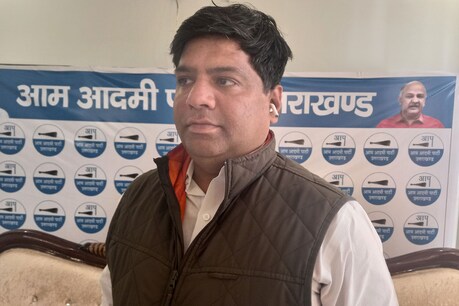 Uttarakhand Aam Aadmi Party says that some MLAs of BJP and Congress are in touch with them.

Uttarakhand Politics: Aam Aadmi Party in Uttarakhand is trying to prepare its political ground before the Assembly elections 2022. Meanwhile, state in-charge of Aam Aadmi Party in Uttarakhand, Dinesh Mohania, has brought political disturbance with each of his statements. Mohania says that BJP-Congress MLAs in Uttarakhand are in touch with him. However, the Congress-BJP has rejected his statement.
From the body.
A statement from the Aam Aadmi Party in Uttarakhand has brought political turmoil. Aam Aadmi Party state in-charge Dinesh Mohania says that BJP and Congress MLAs are in touch with him in Uttarakhand. Mohania says that a minister and 4 MLAs, including both BJP and Congress MLAs Shanil, will join the Aam Aadmi Party before the elections.
According to Mohania, 5 leaders have met him, but he does not want to mention the name and will know everything when the time comes. Mohaniya claims that not only 5 but more and more legislators will come before Chumav before the election of 2022. At the same time, BJP and Congress will face a big challenge in the coming Chumav. However, Mohania is not ready to reveal the name of any leader.
BJP-Congress called the claim false
Aam Aadmi Party in-charge Dinesh Mohania may be claiming to be in touch with legislators, but the Congress and BJP say that the claims of Aam Aadmi Party are hawaii. BJP's state in-charge says that nothing will happen to the Aam Aadmi Party, Aam Aadmi Party only talks, does not do any work. BJP state spokesperson Khajan Das says that the coin of Aam Aadmi Party may have gone in Delhi, but nothing will happen in Uttarakhand. Therefore, the Aam Aadmi Party is only making claims without any basis. Khazan Das says that there is only BJP in Uttarakhand, and every party leader is welcome in BJP and in 2022, the government will form BJP. The Aam Aadmi Party is doing such meaningless things. But they know the prophet of Uttarakhand, that nothing is going to come here.