Government banks are ahead in terms of cheap loans.

Personal Loan: Government banks are still providing loans at low interest rates in various categories of loan category. There is a difference of 159 basis points in the lowest interest rate of private bank and public sector bank for personal loan. Bank of India is offering the cheapest personal loan union.
News18No

Last Updated:February 23, 2021 12:49 PM IS
New Delhi.
Public sector banks (PSB) are still providing personal loans at a lower rate of interest than private banks. The difference between the cheapest personal loan offered by government bank and private sector bank is about 159 basis points. The cheapest personal loan Union Bank of India offers. This bank charges 8.9 percent interest on a personal loan of Rs 5 lakh for 5 years. It is followed by Punjab National Bank, which has an interest rate of 8.95 per cent.
In the list of banks providing personal loans at the lowest interest rate, only two banks are from the private sector. This is Federal Bank and HDFC Bank. These two banks are offering personal loans of Rs 5 lakh at the rate of 10.49 percent and 10.5 percent respectively. 8 of the top 10 banks are in the government sector.
Also read: SBI will provide payment facility through blockchain technology, fast transfer money at low cost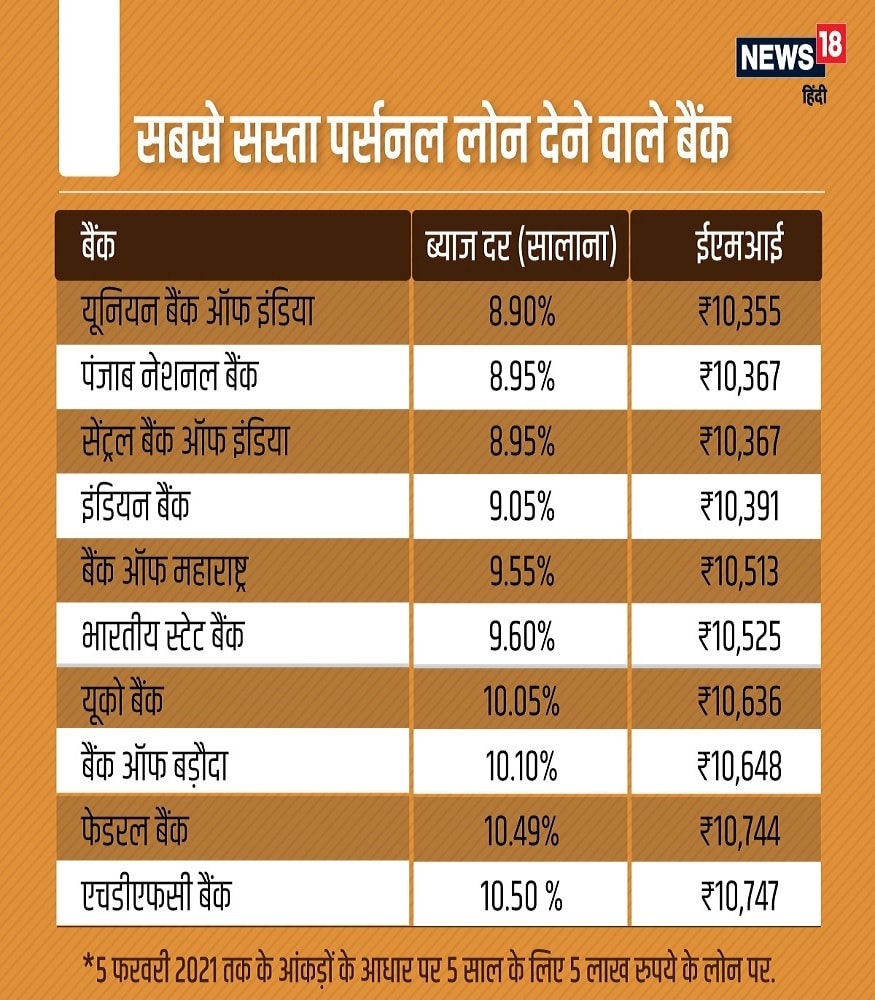 Source: BankBazaar.com
All public and private sector banks listed on BSE have been selected to collect this data. Banks whose data is not available on the website are not included. Data up to 4 February 2021 has been taken on the website of all banks. Banks taking the lowest interest rates are placed at the top. The top 10 banks have been selected in this increasing order. The EMI on personal loans from these banks has been calculated on the basis of EMI of Rs 5 lakh.
Note that the interest rates and charges given in this above table are indicative and can change depending on the terms and conditions of the banks. If your credit score is low, you can be charged interest at a higher rate. Banks can also change the interest rates based on their credit assessment.
Also read: Great returns will be made here on your savings money, 16 lakhs will be given on saving 10 thousand
Before taking a personal loan, keep these things in mind-
>> Choose bank with caution.
>> Calculate the rate of interest.
>> Zero percent do not fall under EMI scheme.
>> Look at other charges as well.
>> Check the cost of personal loan.
>> See also the option to close the loan ahead of time.
>> Do not contact many banks.