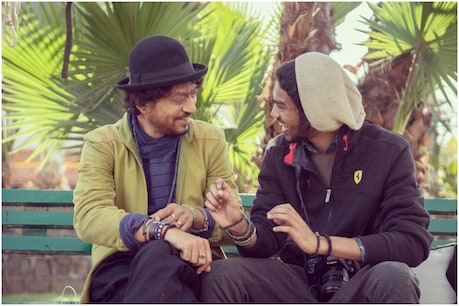 Irrfan Khan with his son (Photo courtesy Instagram / babil.ik)
Babil Khan, son of the late actor Irrfan Khan, has shared screenshots of father's old messages on social media. The chats are from March 2020, which was sent by the late actor Irrfan to his son.
News18No

Last Updated:February 28, 2021 9:09 AM IS
New Delhi
After Irrfan Khan departed from the world, his son Babil Khan often shares social media pictures, videos and memories of his late father. He remembers his Baba Irfan Khan almost every day and posts a post, and then he becomes very emotional about those posts. In his post, he gives a touching caption. Recently Babil has shared screenshots of the message of March 2020.
Babil Khan shared the post and told that he was removing unnecessary chats from his phone. During that time, his eyes went on the old message of Papa (Baba). He has now shared the screenshot of that chat on social media as a remembrance of his Baba. Babil has sent an emotional caption while sharing screenshots of those messages.
Babil writes in the caption, 'This was a time that I could not explain. I was deleting the necessary chats from my WhatsApp and I saw it. I felt it again and it was a thrill for me, like my brother is here with me '.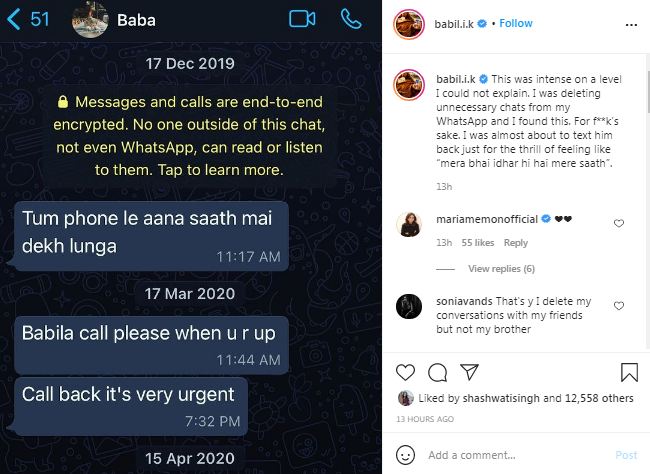 (Photo courtesy: Instagram / babil.ik)
Irrfan Khan sent these messages to him in the month of March 2020. In the message, Irrfan Khan told Babil Khan to call him when he wakes up. The next message was also from Irfan Khan, in which Irfan was asking to call Babil for a very important work. Many fans have been saddened by this post of Babil Khan and are sending crying emojis.
In the last post about his Baba, Babil had told that he had seen Father Irfan in his dreams. The caption of that post revealed that Babil is also getting acting offers. Babil wrote, 'Today in my dreams, you told me that you were going to leave me and you held me for a long time. I woke up only because of my phone, which was about the offer of acting in another film. Now what does all this mean without you, Baba? '