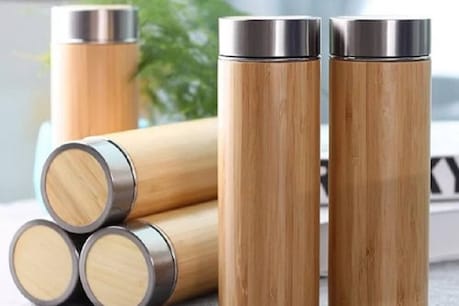 This business is profitable
If you are also planning to start a new business idea, then we are telling you a new business idea.
News18No

Last Updated:February 28, 2021 9:05 AM IS
New Delhi.
Plastic bottles are most commonly used for water. But drinking water in a plastic bottle is the most dangerous. Keeping this in mind, the central government has banned single use plastic. The government has removed a new option for plastic bottles. As an alternative, the Khadi Village Industries Commission, working under the Ministry of MSME (MSME), had manufactured bamboo bottles, which would be used in place of plastic bottles. Banning single-use plastic is very important to eliminate the increasing pollution in India.
Some people are having trouble with this step of the government, while some are seeing options to start new businesses. If you are also planning to start a new business idea, then we are telling you a new business idea. You can earn good money by making bamboo products. Let us tell you everything about this business:
What will be the cost of this bottle
The capacity of this bamboo bottle will be at least 750 mL and its price will start from Rs 300. These bottles are environmentally friendly as well as durable. The sale of this bottle will begin in Khadi store from October 2 last year. However, KVIC has already started manufacturing earthen ax in place of plastic glass.Investment in this amount is necessary
Start this business by investing 1.95 lakh rupees. Explain that no special skill and good investment is required to start this business. However, if this business is started on a large scale, then the cost of starting this business may increase slightly. People try different types of things for home decoration. Especially wood and cane items are commonly used for the decoration of the meeting. Bamboo sofas, chairs, decorative items have become a new trend.
Also read: Start business with Amul, quit job worries, will earn big from day one
Where to spend how much money
If you are planning to start this business, then through this project report of Khadi Gramodyog, we are telling you how much money you will have to spend to start this business. To start the business of making bamboo products, you will have to buy raw materials worth Rs 1,70,000. Click here to know more about expenses (https://www.kviconline.gov.in/pmegp/pmegpweb/docs/commonprojectprofile/BAMBOO%20ARTICLE%20MANUFACTURING%20UNIT.pdf
What else can you make with bamboo?
Bamboo construction is in use. You can build a house with it. Flooring can do. Can make furniture. You can earn by making handicroft and jewelery. Bicycles are also being built from Babu. Officials of the Ministry of Agriculture claim that the Central Building Research Institute (CBRI), Roorkee has given its approval for the construction work. Now bamboo seats are also being prepared in place of cement for putting sheds.