Sonu Sood (File photo) News 18 English
Actor Sonu Sood is considered by millions of his fans as a real hero and often looks for help from him. Sonu also does not disappoint his fans. But there are some recommendations, which the actors reject best and teach well.

News18No

Last Updated:February 28, 2021 1:15 PM IS
New Delhi
For many months, actor Sonu Sood has been known for his generosity more than his films. The actor started helping the needy in lockdown. Since then, the process of helping others has continued. Often needy people and their fans contact the actor through social media. He has also helped many people. But at times there is a complaint where Sonu feels the need to teach his fans. Actually, it is so strange to be asked and such fans are not even needy.
Recently, a fan has requested a new phone from Sonu Sood. Prior to this, Sonu has given phone gifts to many people, but this matter is something else. Fans have tagged the actor in a tweet, in which he is telling the actor that he has vowed to mother in front of his friends that he will keep a good phone. This user wants to get the phone under any circumstances. Therefore, he is asking Sonu to get a new phone.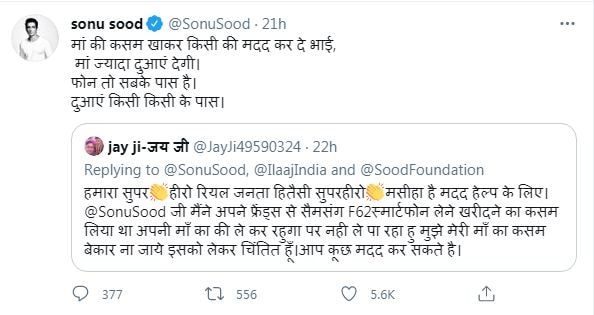 (Photo courtesy: Twitter / Sonu Sood)
The actor has given a cute message to the fan in his familiar style, which has been liked by millions of Sonu's fans. Sonu has given a good lesson to the fan by telling them not to get the phone. Of course, the actor has won the hearts of people with his comment. Sonu writes in response to his fan's tweet, 'Swear to the mother and help someone, brother, the mother will give more blessings. Everyone has the phone. May someone pray. This tweet of Sonu Sood has gone viral. He has spoken so well without making anyone's heart hurt that everyone has become his admirer. This is a lesson that every human being should follow. See then how beautiful the world becomes. However, this is not the first time that actors are delaying learning about any of their fans. He has done this on several occasions. It has been seen that many people keep their request from the actor just for fun. Then the actor gives the right answer to them. He refuses to fulfill the strange request of the fans in a fun way.