Amitabh Bachchan (Photo courtesy Instagram @amitabhbachchan)
Amitabh Bachchan wrote in his blog, 'In this age, eye surgery is very delicate and it has to be done very carefully.'
Mumbai.
Bollywood superheroes
Amitabh Bachchan
Told on Monday that he has undergone an eye surgery. Bachchan had indicated through his official blog two days ago that due to any health problem, he needs to undergo an operation. The 78-year-old actor wrote on his blog on Monday that his eye is slow to recover after the operation and his typing errors should be ignored.
Bachchan wrote, 'In this age, eye surgery is very delicate and it has to be done very carefully.' He wrote that the speed of recovery of his eye after the operation is slow, so if there is any mistake in typing, then he should be forgiven for this. Bachchan indicated for the second eye surgery and hoped that he would be fully recovered before the shooting of director Vikas Bahl's upcoming film.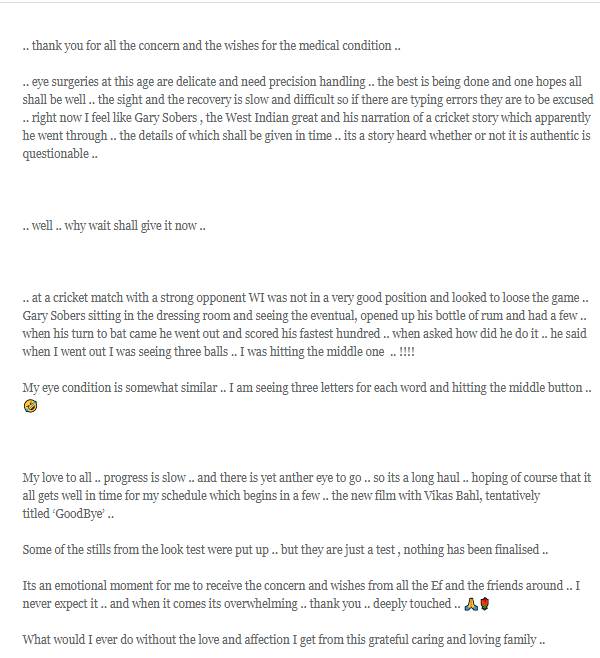 Amitabh Bachchan blog printshot
He wrote, "My love to all of you. The speed of recovery of the eye is slow and my second eye has to be operated as well, so it is a long process. I hope that in a few days before the shooting of my upcoming film, I will be healthy. I will work in Vikas Bahl's new film, which will probably be titled 'Good Bye'. "Bachchan wrote," I am sitting empty, most of the time my eyes are closed and I try to listen to music. " When he informed about the deterioration of his health on Saturday, he is overwhelmed by the love and support he has been receiving since then.