After becoming a mother again, Kareena Kapoor shared the first photo. (Photo courtesy: kareenakapoorkhan / Instagram)

Kareena Kapoor Khan has shared her photo on social media after a long time. This is the first photo of Kareena after becoming a mother again. While sharing the photo, Kareena has said to miss her fans.
Mumbai :
Bollywood actress Kareena Kapoor Khan has given birth to her second child a few days ago. Kareena is enjoying Motherhood since the birth of her second son. But Kareena, who is very active on social media, is missing her fans. The fans are only missing Kareena, but Kareena is not missing her fans any less.
Actually, Kareena Kapoor has made the fans happy by sharing her photo on her Instagram account. Kareena Kapoor shared a closeup photo of her all time favorite style pout. In this photo, Kareena is wearing black goggles with a hat. Kareena is looking very beautiful in this photo. With this photo, Kareena has written the caption, 'O hello, I missed you all'. This post, which has collected more than 3 lakh likes in a short time, has become clear that Kareena's fans were really desperate to get a glimpse of her.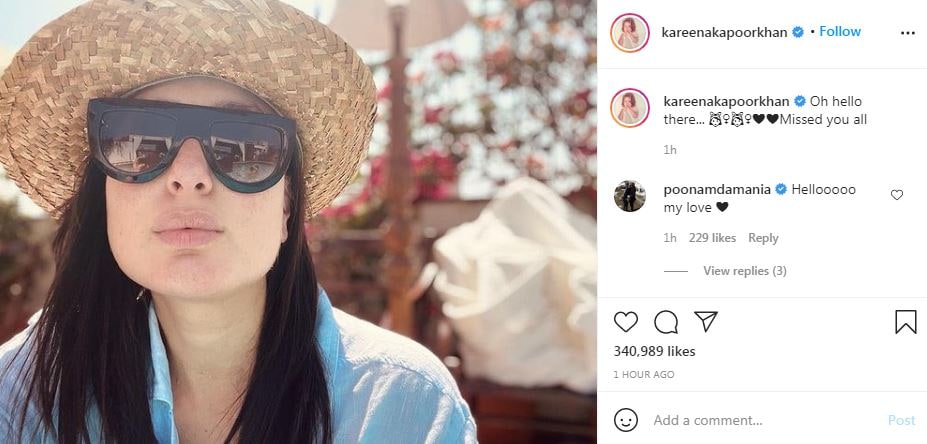 Let us tell you that after becoming a mother, Kareena Kapoor is busy raising her child. On the same Sunday, Arjun Kapoor and his girlfriend Malaika Arora went to their house to meet Kareena Kapoor. Kareena and Saif Ali Khan have become mummy-dads once again. Malaika went to his house to see Kareena Saif's son. Malaika Arora and Kareena Kapoor are very good friends among themselves. Kareena, Malaika, Amrita Arora are often seen partying with each other. Kareena Kapoor Khan and Saif Ali Khan have not named their second son yet. Fans are discussing a lot about the name of Saifina's second son. Many fans have also named the name.