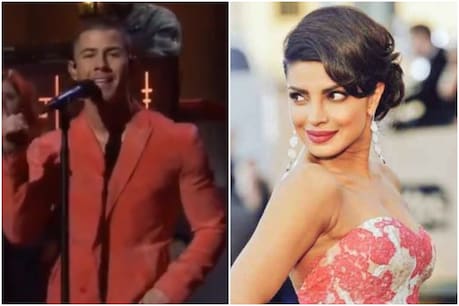 Nick Jonas and Priyanka Chopra (Photo courtesy Twitter @ priyankachopra)
Nick Jonas performed live on the song 'This Is Heaven' on Saturday night. Nick's wife Priyanka Chopra (Priyanka Chopra) has praised his performance and shared a video of 'Saturday Night Live'. The actress has described this song from the album 'Spaceman' as her favorite song.
Mumbai
With time, Priyanka Chopra (Nick Jonas) and Priyanka Chopra are growing in love. Wherever they are, they both express their love for each other. On Saturday night of last week, Priyanka Chopra's husband Nick Jonas gave live performance on his new song 'This is Heaven'. Nick was the host of the show in addition to the guest during Saturday Night Live. During this, he made his fans perform on two songs. Those songs are 'This Is Heaven' and 'Spaceman'.
Priyanka was impressed by her husband's performance. Priyanka has expressed a lot of love on her husband by sharing a video of live performance. She tweeted, 'One of the most favorite songs on the album is #Spaceman @ Nick Jonas.' This is his first solo album since he joined the Jonas Brothers in 2019. The album 'Spaceman' will be released on 12 March.
In an interview, Nick had told that most of the songs in this album express his love for Priyanka. He says, 'Most of its songs are love letters. I am happy to know that Priyanka likes these songs and this is the most important. '
❤️❤️ One of my favourites in the album #spaceman @nickjonas https://t.co/8vWpYGea8K

– PRIYANKA (@priyankachopra) February 28, 2021
Nick is currently in Los Angeles, while Priyanka is busy shooting for the Amazon thriller series 'Citadel' in London. Last week, Priyanka gave Nick a surprise surprise despite being miles away. A video of this was shared by Nick Jonas from his social media account, in which he is showing a room, which is very beautifully decorated. Nick wrote in the caption of the video, 'My wife has surprised me with this love and respect. Thank you @Priyanka Chopra. You are the best. '
On Valentine's day, Nick was surprised by sending a lot of red roses to Priyanka. Priyanka shared a picture of this long distance celebration on her Instagram handle. Priyanka wrote with the picture, 'I wish you were here, Nick Jonas, just so many roses'. To this Nick commented, 'Very rarely.'
Priyanka's book 'Unfinished' was released in the beginning of February. This book helps in getting to know Priyanka's life closely. Anyone reading this can know how she became an Bollywood actress, then an international figure, from an ordinary girl. He has told many funny stories of his life in his book. This book has made a place in the New York Times Best Sellers List.