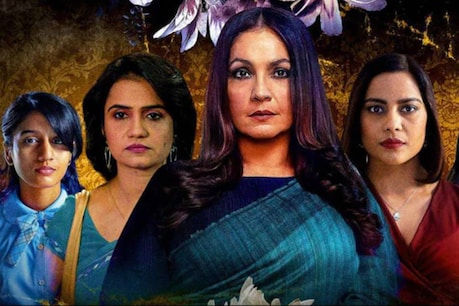 Poster of Bombay Begams.
The notice was issued by the National Commission for Protection of Child Rights on the content of Bombay Begum, a web series released on Netflix. Now Netflix has given its answer on this notice.
Mumbai.
The web series 'Bombay Begum' released on Netflix has come into controversy due to some of its scenes. The National Commission for Protection of Child Rights had issued a notice objecting to its content and ordered to stop streaming the show. Netflix was given 24 hours to give its reply and now Netflix has given some time to NCPCR to give its reply.
This is the second web show after Amazon Prime's web series 'Tandav' which has been covered in controversies. 'Bombay Begums' was released on Netflix on 8 March. Actually, the Commission has sent a notice to Netflix on the basis of a complaint. It was alleged in the complaint that in this series, a 13-year-old girl has been shown to be taking drugs. In the series, minors are shown having casual sex. Along with this, objections have also been raised on the way school children are depicted. While objecting to the alleged inappropriate portrayal in the complaint, this type of content will not only affect the minds of young people, but it can also lead to abuse and exploitation of children.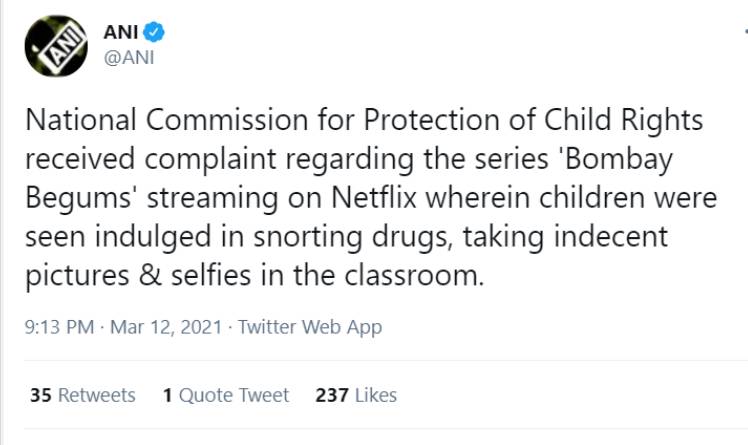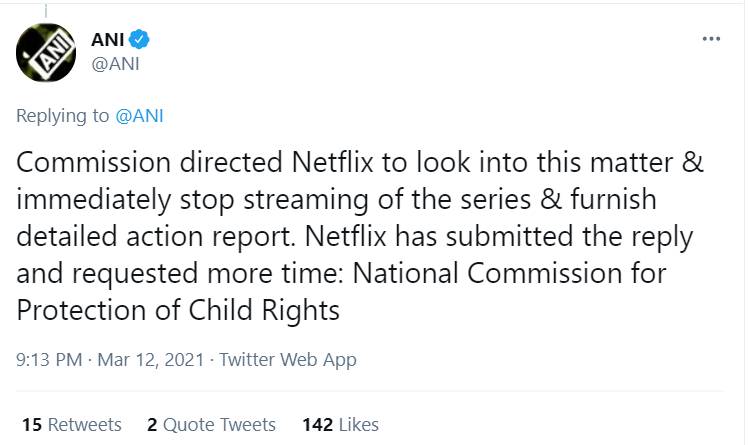 Director Alankrita Srivastava's web series 'Bombay Begum' has shown the story of five different women. Apart from Pooja Bhatt in the series, Suhana Goswami, Amrita Subhash, Plabita Bor-Thakur, Adhya Anand are in the important role. The commission said in its notice that Netflix has to do more in relation to children or while streaming any content for children Caution must be exercised. The Commission has ordered that streaming of the series be stopped immediately and a detailed action report should be submitted within 24 hours. If it does not, the Commission will take appropriate action under the provisions of Section 14 of the CPCR Act, 2005.