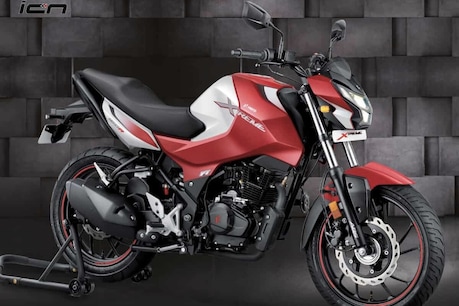 Power of 15bhp and torque of 14Nm
Hero MotoCorp claims that it is one of the fastest bikes in its segment, capable of accelerating from 0 to 60 km / h in just 4.7 seconds. It has a single channel anti-lock braking system (ABS) with a 17-inch alloy wheel.
The new Delhi. Hero MotoCorp has mine The new The bike Xtreme160R 100 Million Edition was launched on Friday. The world's second largest two-wheeler manufacturer Hero MotoCorp condition Only in The Xtreme160R was rolled out from the factory on the basis of its 10 Karadvi bikes, while the new Million Edition of this bike was launched today. The starting price of this bike by the company 1,08,750 Has kept Rs. Hero MotoCorp Of Claim is That these Ours Segment Of from all Fast Bikes in From One Which is Merely 4.7 Second in Only 0 From 60 Kilometer per hour Of speed Catch in capable is. in this 17 Inch Of Alloy The wheel Of with Single Channel Anti The lock Breaking The system (ABS) Given Gone is. this Bike Of The total weight 139.5 Kilogram is. The company has said to give a benefit of up to four thousand rupees in the exchange.
Because it is an advanced version, so it is natural that it is expensive than its regular model. Talk about it Regular drum The break Variants Of Price Go That 1,03,900 Rupees Having more Disc The break Variants Of Price 1,06,950 Rupees is. company has this New Million Edition Of Look And Design in some Cosmetic Change did is that That him Regular The model From Apart Make Huh.
Also read – OLA electric scooter will be ready every 2 seconds, see features here
Peshal Edition in company has Given Full LED Lighting
Be seen a bike Of Design Regular The model As Only is. but this Special Edition in company has Full LED Lighting, The side The stand The engine cut Off, Hazard The switch, Auto Shell Function like FEATURES lamps Huh, that That Bike To Little Premium Make Huh. Xtreme 160R Of Million Edition To Special Dual paint The scheme From Decorated There is Headlight Masks, Fuel The tank And Rear Panel On Red And White color Given Gone is.
Also Read – TVS Motor Launches Upgraded Edition Of Apache RTR 160 4V, Know Price And Features
Like this is Mechanism
Xtreme160R 100 Million Edition के Mechanism What With A look at the given specification shows that in this someone Too Change No did Gone is. Its company has first Of Kind 163 cc Of The ability Of Single Cylinder Containing The engine Of Experiment did is that That 15bhp Of Strong Power And 14Nm Of Torque Generated Does is. these The engine 5 Speed Transmission Gearbox From Equip is. these Special Edition Bike In college Single Dual Disc The break Variants Of with available is.