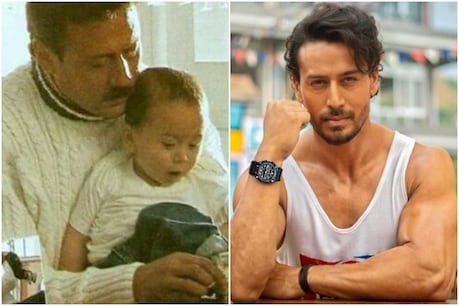 Tiger Shroff with his father Jackie Shroff (Photo courtesy Instagram / tigerjackieshroff / apnabhidu)
Jackie Shroff and his wife Ayesha Shroff are going to appear as guest on the stage of 'Indian Idol 12'. Both will tell many unheard stories related to their lives. Wife Ayesha will also unveil a big secret.
New Delhi
This weekend's weekend of 'Indian Idol 12' is going to be very special. Actually, 'Jaggu Dada' i.e. Jackie Shroff of the film industry will come as a special guest on the show. This will give a fun filled atmosphere to the set. In this episode, Jackie Shroff will be seen performing songs like 'Goria Re Goria Re' and 'Fanny Ne Mujhe Mein' by Contestant Ashish Kulkarni.
Not only this, Jackie is also going to entertain judges and contestants with interesting stories. There will be a moment in the show when Jaggu Dada becomes very emotional. During the show, Aditya Narayan is going to show a video to Jackie Shroff. In this video, Jackie's family has sent a special message for him. Sharing some of his memories on the show, his wife Ayesha Shroff said, "You guys will be surprised to know that I was 13 when I first met Jackie Shroff."
Ayesha further says, 'Actually we met at a recording studio where we talked for 2 minutes and then I came home and told my mother that I met a man with whom I would marry. After 3 years of this meeting, I saw him again and then the conversation started between us. We often used to go out as well. Putting a smile on his face, he said, 'Marrying her is the best decision in my life. I consider myself lucky that I found a great man like him. He is the best husband and the best father of this world.
Not only the wife, but her son and today's superstar Tiger Shroff also sent a loving message to his father in the video. Tiger says, 'First of all I would like to call all the contestants all the best for their future. My greetings to all the judges. He further said, 'I am sure that our family must have told a lot about you. I just want to say that I love you very much dad! My only aim in life is to make you feel proud every day and I feel that I am able to do it. Jackie Shroff became emotional after hearing this message of son and thanked 'Indian Idol' for this.