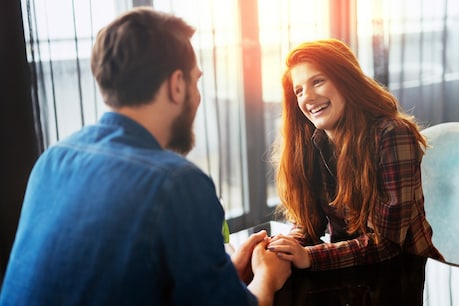 You too can make love express easy.
How To Confess Love: Love has fallen and is very desperate to tell, but if you are afraid to say, then confess your love in these ways.

How To Confess Love:
You have fallen in love with someone and your condition has also fallen in love, why are you afraid of love again? The heart is afraid and in front of whom you want from the heart, your condition is like a child's loss to a teacher. Not only this, you are going through the mood of butterflies in your stomach, the palms get soaked with sweat and all the time, they only take care of them and you feel very compelled to face this feeling. So not only is your condition often the same in everyone. It is no less than going into a battle to talk to the person with whom you love, because falling in love with someone is as beautiful, the more difficult it is to express love. If you are unable to find the right words, do not worry. Here we are going to tell you such easy ways that will not only give you the opportunity to express your love in front of your special person, but will also impress them.
Write love letter:
You can consider this method as outdated, but this method is still the best way to tell everything without saying anything. Not only this, this song has been made that "Pigeon Ja Ja Ja Pehla Pyar Ka Pythi Dekha To Saajan" This is the most romantic and easy way to tell someone how you feel about them, then write a cute love letter to them to express your feelings and accept them. And pour the pour into it all the desires of your heart.
Also read: Why does a man in love become a saint?Make special feel:
When you are not able to make the special of your life feel special, then what did you love? By doing anything you can make your loved one feel special, like taking them to a candle light dinner, cooking for them or pampering them by helping them in their daily chores. Through these small but meaningful efforts you can make them feel that you love them and they are special for you and your life.
Openly accept love
You can take them to a fancy restaurant or to watch a movie of their choice, during this time, express your love to them in front of everyone. Or if both of you have gone to a function, then by singing between the music playing there, or by playing a song to confess the love, or by publicly announcing it, express the love and make this moment memorable for life.
Read also: These 4 signs show that your dating partner is cheating on you
Reach home without telling
When your special people do not expect far away that you can knock on the door of their house, then reach their home to surprise them. If flowers are bouquet and gift, then it is better to say otherwise, it would be enough to just tell your feelings and emotions that today we came to know how much love you have. (Disclaimer: The information and information given in this article is based on general information. Hindi news18 does not confirm these. Contact the concerned expert before implementing them.)