Parineeti Chopra (Instagram @ParineetiChopra)
Food service app Zomato Delivery Boy's case is becoming increasingly viral on social media. Now in this case, actress Parineeti Chopra has also come out in support of the delivery boy.
Mumbai
Social media is such a platform that is enough to make anyone an internet sensation in an instant. Many times people also misuse this power, a recent case of this has come up as the case of Zomato delivery boy. A few days ago, a video went viral on social media, in which a woman was bleeding from the nose and she was accusing the delivery boy of food service app Zomato India. After this video, the statement of the delivery boy also came out and the story completely reversed. Now actress
Parineeti Chopra
Has come in support of delivery boy.
Parineeti Chopra, while posting the tweet, wrote that Jomato India, please check the truth and make its report public. If the delivery boy is innocent (I believe he is) then appropriate action should be taken against the woman. It is inhuman, embarrassing and heart wrenching. Please tell me how I can help. This tweet of Parineeti is becoming increasingly viral and the fans are not tired of praising the actress.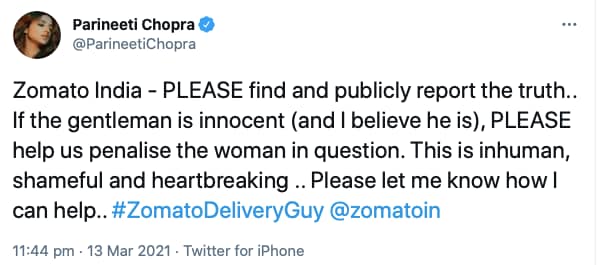 Parineeti Chopra has come out in support of the delivery boy. (Twitter @Parineeti Chopra)
Explain that in Bangalore, the delivery boy who attacked the woman on cancellation of the order has been arrested. The Bengaluru DCP has confirmed this. Another claim has come in the case of attack by a worker of 'Jomato', an online food delivery company. Hitesha Chandrani, a model and makeup artist from Bengaluru, Karnataka, claimed that the online delivery boy allegedly attacked her because she had complained of being late for food. Now this case has taken a new turn. According to a report by The News Minute, the young man Kamraj, who delivered on behalf of Zomato, claimed that the woman slapped and slapped him. The young man claimed that his nose was hurt by the woman's own mistake. Apart from this, the founder of the company Deepender Goyal has also issued a statement. On one hand, the company has promised to bear medical expenses by apologizing to Hitesha Chandrani and on the other hand has suspended Kamaraj. The company is also helping Kamaraj. The company is trying to know the truth of the whole matter.