Kangana Ranaut (Pic-Twitter)
Kangana Ranaut has tweeted about the transfer of Mumbai Police Commissioner Paramveer Singh. In the tweet, she is describing it as the beginning of the end of Shiv Sena.
New Delhi
A lot of questions were raised about the investigation of the Mumbai Police in the Suicide case of Sushant Singh Rajput, then the name of Paramveer Singh, who was the Police Commissioner here, had risen. Earlier, he had also been in the news for the Malegaon blast case. Now Paramveer Singh has been transferred. Now Hemant Nagrale will take over as Mumbai Police Commissioner in his place. Paramveer Singh has been transferred to the Home Guard Department. Now Kangana Ranaut has reacted sharply to his transfer.
Bollywood actress Kangana Ranaut has given her reaction regarding the transfer of Mumbai Police Commissioner Paramvir Singh. Bebak Kangana tweeted the news of Paramveer Singh's transfer, writing, 'This is the same person who promoted infamous art about me on the streets of Mumbai. When I paid off the account, the Sonia Army saved them. Then they broke my house with a sense of revenge. She further says, "Look today, Shiv Sena has shown him the way out. This is the beginning of the end of Shiv Sena.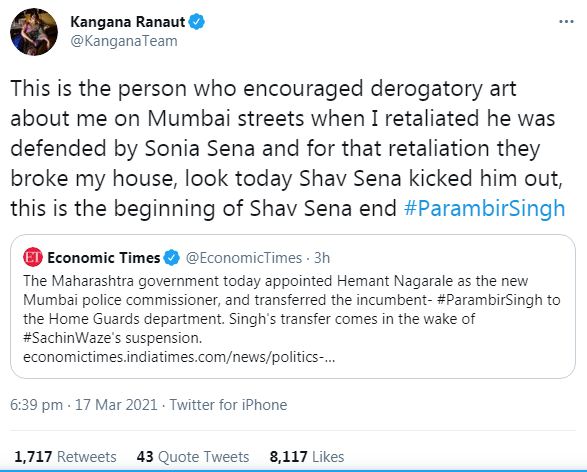 (Photo courtesy: Twitter / Kangana Ranaut)
People are looking at the transfer of Paramveer with the Antilia case. Recently, a vehicle full of explosive material was found near Mukesh Ambani's house Antilia. It is understood that the Uddhav government has transferred Paramvir Singh due to increasing scope of investigation in this case. Paramveer's transfer is seen as a demotion. In February 2020, Paramveer was appointed to the post of Mumbai Police Commissioner. Paramveer also came into the limelight when Kangana's office in Pali Hill, Mumbai, was being demolished. This action was said to be motivated by revenge. Actually, at that time there was a verbal war with Kangana's Uddhav government. Then, a section of Kangna's office was declared illegal and fired a bulldozer on it. When Kangana got the news of the breakdown of her office, she became very angry.