Akshay Kumar, Jacqueline and Nushrat Bharucha. (Photo- Virl Bhayani)
Akshay Kumar, while sharing the picture of Panditas and Shri Ram Darbar worshiping Ayodhya from Ayodhya, wrote, 'Today Shri Ayodhya received the blessings of Lord Shri Ram at the launch of the film "Ram Sethu". Jai Shree Ram!'
Akshay Kumar has reached Ayodhya (Ayodhya) with his leading lady Jacqueline Fernandez and Nushrat Bharucha for the shooting of his upcoming film Ram Setu. From here, Akshay Kumar has shared the first photo of his film Muhurta. Along with the Muhurta of his film, Akshay is also going to meet CM Yogi Adityanath of Uttar Pradesh. Apart from this, Akshay will also meet Shri Ram Janmabhoomi Tirtha Kshetra Trust General Secretary Champat Rai and Trustee Anil Mishra.
Akshay, while sharing the picture of the worshiping pandits and Shri Rama Darbar, wrote, 'Today Shri Ayodhya ji received the blessings of Lord Shri Rama at the launch of the film "Ram Sethu". Jai Shree Ram!'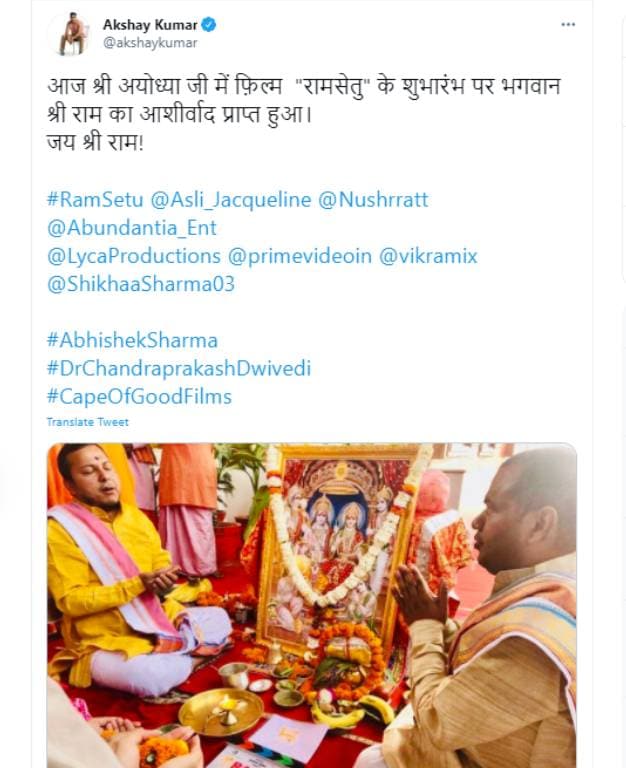 Photo courtesy: @ akshaykumar / twitter
This meeting between the members of Shri Ram Janmabhoomi Tirtha Kshetra Trust and Akshay Kumar will be about 15 minutes and there will be discussion on construction of Ram temple and other construction to be done in Ramjanmabhoomi complex. At the same time, Akshay Kumar will do the Ram Sethu film in front of Ram Lala in Ram Janmabhoomi complex. Akshay will visit Ramjanmabhoomi complex and will also worship and worship Ramlala.
(Photo-Viral Bhayani)
'Ram Sethu' film is being directed by Abhishek Sharma. This film is to be shot in Ayodhya, the birthplace of Lord Rama. The release date of this film is currently 2022 Diwali. According to Akshay, his film 'Ram Setu' is the link between the past, present and future generation.