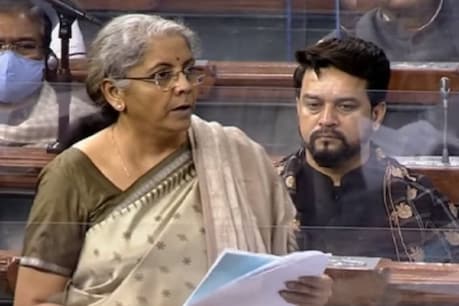 Finance Minister Nirmala Sitharaman (File photo)
In the Rajya Sabha on Thursday (March 18), the proposal to increase FDI in the insurance sector to 74 percent was passed.

New Delhi.
The Insurance (Amendment) Bill, 2021, which provides for raising the FDI limit to 74 per cent in the insurance sector, has been approved by the Rajya Sabha on Thursday. Explain that in the budget, Finance Minister Nirmala Sitharaman had announced to increase FDI. Earlier, the maximum FDI limit in the insurance sector was 49 per cent.
Sitharaman said that the insurance regulator IRDA (IRDA) has said that the investment limit will be increased keeping safety in mind. He also said that India needs a lot of capital for the insurance sector and for this, it needs to arrange long term funds.
read this also- Indian Railways: Many special trains running before Holi, note the time and train number, will get confirmed tickets!
Appointment of Indians to most of the company's directors and key management positionsHow will insurance companies be controlled after increasing the FDI investment limit? On this, the Finance Minister said, "Control means that most of the directors and management of the company will be appointed Indians. Some fixed percentage of the profits of the companies will be kept as General Reserve. The company will be where the law is. It will do the same. No one can finish it. "
74% FDI is not mandatory in insurance companies
Sitharaman said that 74 percent foreign investment option is being given in insurance companies under this proposal. It is not being made mandatory. This means that companies who want to raise foreign investment up to 74 per cent can raise it, but for those who do not want it will not be a compulsion. The Finance Minister also made it clear that raising the FDI limit does not mean that this investment can be done through the automatic route. For this, the insurance companies will have to get the necessary permission.
Also read- Ration card holders now book ration with mobile app, know its benefits and how to register
Opposition parties boycott the house
Meanwhile, the Congress and other opposition parties boycotted the House in protest against increasing the limit of foreign investment in the insurance sector.