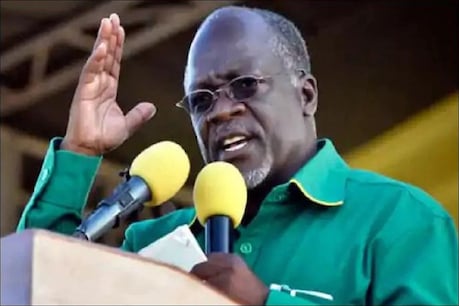 Tanzania's President John Magufuli (File Photo)
Tanzania's President John Magufuli has passed away. He was ill for a long time and was not seen in any public function for more than two weeks.
Dodoma.
Tanzania's President John Magufuli has died at the age of 61. Vice President of Tanzania Samia Suluhu confirmed. The possibility of Mugufuli being infected with Kovid-19 was being expressed, however, it has not been confirmed yet. Magufuli attended the Sunday church service frequently but had not been seen in a public function since 27 February. It was discussed that he is ill and undergoing treatment abroad. Magufuli was elected as a Member of Parliament in 1995.
He gained a lot of popularity when he was reappointed as Transport Minister in Tanzania in 2010. His aggressive leadership style and fight against corruption in the road construction industry are well-known among Tanzanians. Because of this he was named Bulldozer. He was appointed as the President for the first time in 2015. After this, he was re-elected in 2020. Presidential candidate Tundu Lisu, who was contesting against Magufuli when he was re-elected President, was termed a fraud.
Also read: Kabul: Attack on government employees' bus, 3 killed in a blast; 11 injured
Magufuli was not seen in any public event since 27 February. There were also a lot of rumors about his health. An opposition leader had said that he was corona infected, but this was not confirmed.