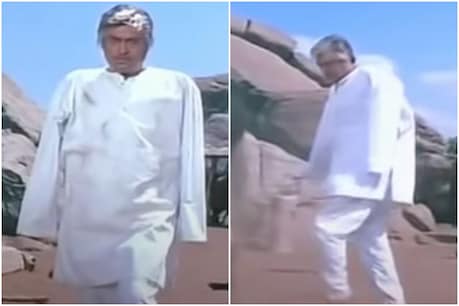 (Photo courtesy: Youtube / phholmes)
The scene of a fight between Thakur and Gabbar Singh in the film 'Sholay' is very popular. This is the reason that even today people watch this scene again and again. The funny thing is that Thakur's hand is seen in this scene.
New Delhi:
Even today, whenever the film 'Sholay' comes on TV, people watch it with great fervor. In this film, Dharmendra (Dharmendra) and Amitabh Bachchan (Amitabh Bachchan) played the role of Jai-Veeru in the hearts of the people. This friendship of the film screen is an example for the people even today. At the same time, Sanjeev Kumar became immortal by playing the role of Thakur. Every aspect of this film was tremendous, be it acting or script. But still there is some lack of something. The same thing happened with Sholay.
Although every scene of the film is very special in itself, but what to say about the fight of Thakur and Gabbar Singh. This is a unique fight, in which Thakur competes against Gabbar without hands. Thakur's hand is seen in this scene. It was shown in the film that Gabbar Singh cuts off both hands of retired police officer Thakur Baldev Singh.

Later, with the help of Jai-Veeru, Thakur takes revenge on Gabbar and fights without hands and in this scene his hand is seen under the kurta. This scene of fight between Thakur and Gabbar Singh is also present on YouTube. People watch this scene a lot and react fiercely. Let us know that Amjad Khan played Gabbar Singh in the film 'Sholay'. The film was penned by the Salim-Javed duo and directed by Gopal Das Sippy along with his son Ramesh Sippy. In the film, Hema Malini, Jaya Bachchan (Jaya Bhaduri), Asharani, Jagdeep also tied up with important characters. Even today the dialogues of this film are spoken on many occasions.