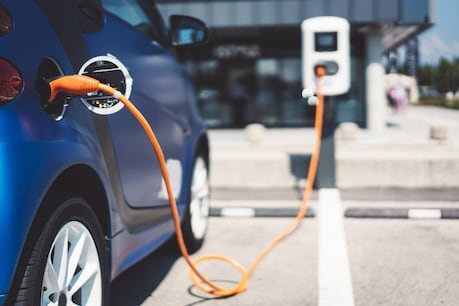 E-vehicle charging points will be made at the petrol pumps of Hindustan Petroleum across the country.
Shuchi Anant Virya, a joint venture between Lithium Urban Technology (LUT) and Fourth Partner Energy (FPE), will create e-vehicle charging points (Charging Points) in a phased manner across the country. In this network, two-wheeler, four-wheeler and three-wheelers will have the facility of both fast and slow charger.
New Delhi.
The central government is promoting electric vehicles in full swing, but people are in a tizzy over buying them for two reasons. First, they cost more than conventional fuel, petrol and diesel powered vehicles. Secondly, if you buy even after spending less on fuel and keeping in mind pollution, then how will we charge easily? To solve the first problem, the central and state governments are providing subsidy on the purchase of electric vehicles. At the same time, preparations for the resolution of other problems are going on very fast. In this series, Lithium Able Technology (LUT) and Fourth Partner Energy (FPE) joint venture Shuchi Anant Virya is preparing to set up e-vehicle charging points across the country.
Charging points will be made first on Tier-1, 2 and then NH
Shuchi Anant said that the company will install EV Charging Points in a phased manner at HPCL Retail Outlets across the country. Currently, Shuchi operates EV charging hubs in Gurugram and Pune. Shuchi Anant Virya means unlimited clean energy. The company plans to set up a network of EV charging points in tier-1 cities in the first phase. After this, electric vehicle charging points will be installed on HPCL's petrol pumps on Tier-2 cities and National Highways. Fast and slow chargers will be made available for two-wheeler, three-wheeler and four-wheelers in Shuchi's charging points network.
read this also- The rising price of LPG cylinders has spoiled the kitchen budget, so know how Aadhaar can provide reliefThe company has prepared cloud based technology for maintenance
The company said that it has also created cloud based technology for easy access, running and maintenance of charging units anywhere. Lithium Urban Technology founder Sanjay Krishna said that in the coming years it would be necessary to fill the empty space of Charging Infrastructure and provide affordable charging facility to e-vehicles. We will provide an easily usable EV charging network to people across the country in partnership with HPCL. The company launched the EV Charger 'ChargeGrid Flare' in association with Magenta EV System last week.