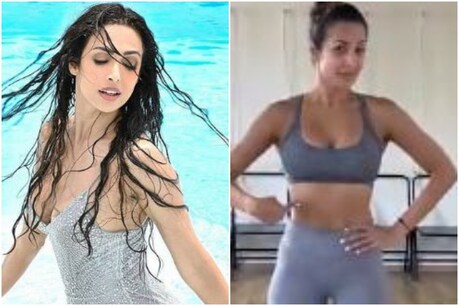 Malaika Arora (Photo courtesy: Instagram / malaikaaroraofficial)
Social media queen Malaika Arora has told her fans an easy way to make abs. The actress is telling 3 simple exercises in her latest video (Malaika Arora Video), from which you too can make abs like them.
New Delhi
Malaika Arora is famous for her fashion, dance and fitness. She appears daily outside her gym or yoga center in Mumbai. She has been sharing her many videos related to them (Malaika Arora Videos) and photos with fans. Recently, the actress has shared a new video of her on social media (Malaika Arora Instagram). In this video, she is giving information to her fans about three simple exercises to make abs.
Malaika herself is telling these exercises in the video. Everyone has liked this style of actress. Especially those people who are more conscious about fitness. Of course, by adopting the tips of making Malaika's abs, fans can also get a fit body like them. Malaika shared this video with her Instagram account. So far, more than 71 thousand likes have been received on this video, which was shared about 9 hours ago.
Malaika Arora is very much in discussion about her style and style. There is no doubt that Malaika is one of the most stylish actresses of Bollywood. She is also always in front of fitness. Sharing the Malaika video, it wrote in the caption, 'These 3 simple abs exercises, which you can easily do at home. Do this exercise continuously for 14 days and after that tell me your results. The secret to good workouts is to make it fun. I enjoy workouts, not only because it makes me healthy, but also because it makes me happy. ' Malaika Arora has further written in the caption, 'Click on the link in my bio and get a chance to win a one-year yoga program.' Talking about Malaika Arora's career, the last time the actress was seen as a judge in 'India's Best Dancer'. In this show, he also made a lot of fire from his dance too many times. However, Malaika had to leave the show midway due to being corona virus positive. But he made a tremendous comeback after recovering from Corona. Apart from this, Malaika Arora is known for her fitness and fashion sense. Malaika often shares her photos and videos while doing yoga.