Farah Khan for Best Choreography Award for Dil Bechara (Photo courtesy .farahkhankunder / INSTAGRAM)
After the National Awards, Sushant Singh Rajput's film continues to flourish at the Filmfare Awards 2021. Farah Khan has received the award for Best Choreographer.
Mumbai.
The list of nominations for the 66th Filmfare Awards 2021 has been revealed. Farah Khan has received the award for the choreography of 'Dil Bechara'. Bollywood's famous choreographer Farah Khan has shared the joy of getting the award on her Instagram account. Farah expressed his happiness by sharing his photo with the late actor Sushant Singh Rajput.
Farah Khan, while sharing a photo with his Filmfare Award 2021 on social media, wrote, 'This is very special. My seventh Filmfare Award for 'Dil Bechara'. My only song with Sushant Singh Rajput is very special, which became my best choreography '.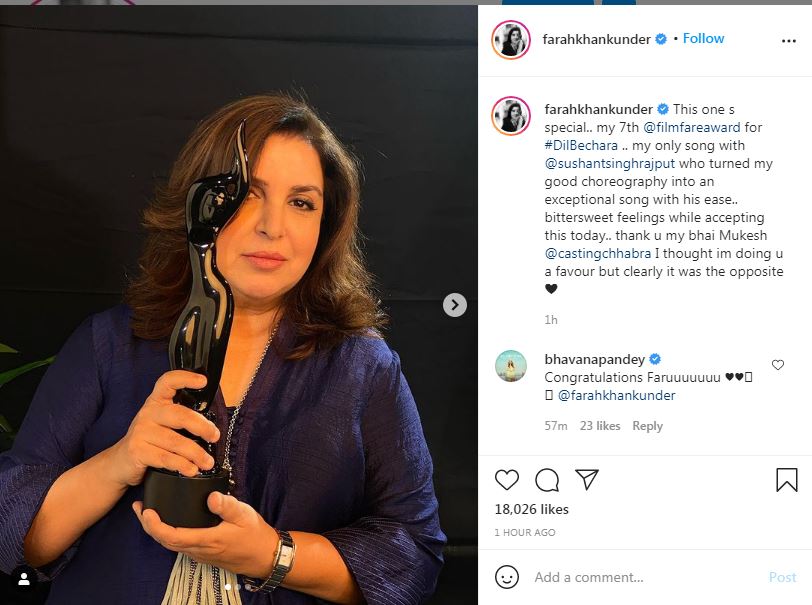 'Dil Bechara' is a very emotional film by the late actor Sushant Singh Rajput. There is a girl named Kiji Basu (Sanjana Sanghi) who lives with her mother (Swastika Mukherjee) and father (Sashwata Chatterjee). Kijie has thyroid cancer and moves with her oxygen cylinder all the time. During treatment, Kizi meets Emmanuel Rajkumar Jr, ie Manny (Sushant Singh Rajput), a very good-looking boy who is battling a cancerous osteosarcoma himself and has also suffered a leg loss. Kiji is waiting for his death. Mani is the only girl whose life brings happiness. Kiji has a favorite singer named Abhimanyu Veer Singh but his last song is incomplete. Kiji wants to meet Abhimanyu in his life and his wish fulfills Manny, who is battling cancer.
Last year, the release of many films was halted due to the Corona epidemic in 2020. But the actors directors did not back down from showcasing their talent on OTT platforms. Many great films of big stars were released on Netflix, Amazon Prime. Let me tell you that the 66th Filmfare Awards will be telecasted on April 11 at 12 noon on Colors.