Milind Soman shared a quarantine selfie. (Photo courtesy: milindrunning / Instagram)
Milind Soman has also been found to be Covid-19 positive. Milind, who is spending his time in quarantine, has shared his selfie and shared his experiences on corona virus while giving information about his health.
Mumbai.
Model and actor Milind Soman has become a victim of Corona virus. Milind took the help of social media to inform his fans about his health. Thanks to everyone for your blessings by posting your selfie on your official Instagram. Along with posting a selfie, Milind has also written about Coronavirus. The actor has written that there is no clarity about this virus among people. Milind Kovid-19 has been living in quarantine since the positive report came out.
Milind Soman posted two close-up selfies on Instagram and wrote, '5th day of quarantine – all is well. The hair is only growing. Thank you for all your prayers. Milind wrote that 'I am coming to my post on different platforms. Looking at the comments, it seems that there is still no clarity about the Kovid-19, while the world is being talked about for a year. One thing is clear that anyone can get infected, even if he has taken the vaccine. If you have taken the vaccine, the symptoms of the disease may be reduced, but the infection without vaccination depends on your mental, physical health and immunity. We all have different mental and physical strengths and weaknesses. Call it jeans or anything hereditary. No one is perfect. Nothing is good or bad. Identify your weaknesses and strengths. Work on it This is the way to stay healthy and happy.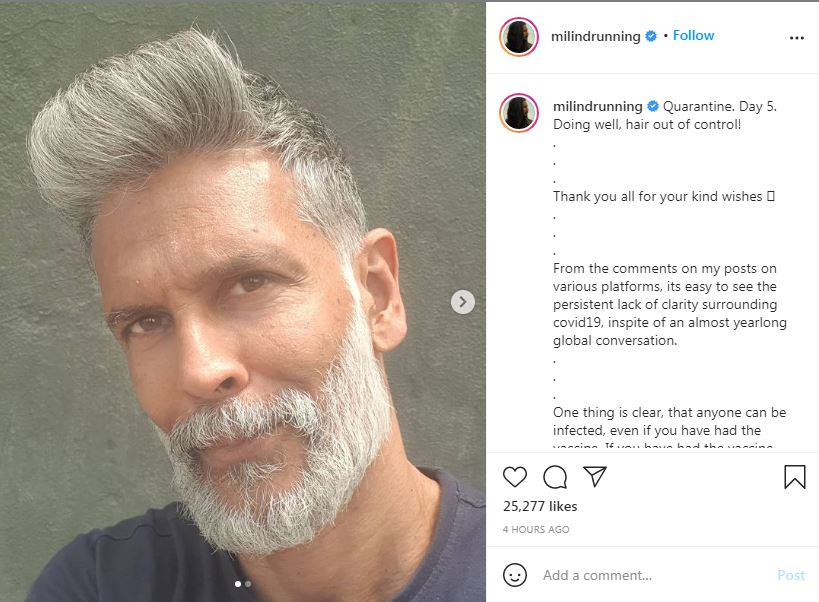 Please tell that Milind Soman had informed about his corona positive by sharing the post on social media. Milind Soman had said by tweeting that, 'I have become Corona positive. They have quarantined themselves at home '. After Milind is corona positive, his fans are wishing him a quick recovery.