Hardik Pandya (Photo courtesy: Instagram / hardikpandya93)
Indian cricketer Hardik Pandya's wife and model Natasha Stankovic (Natasa Stankovic) has shared a very beautiful picture of him with her. In this photo, the model is seen kissing her husband.
New Delhi
Cricketer Hardik Pandya and his wife Natasha Stankovic are well-known couples. He often shares his beautiful photos and videos with his fans. Recently, he shared photos of the pool with the family. Hardik's wife Natasha Stankovic is a model. Both of them keep sharing their videos and photos on social media every day. This time Natasha has shared a beautiful picture with Hardik Pandya, which the fans are very fond of.
Natasha Stankovic shared this cute photo on her Instagram account on Friday. In this, she is seen in the swimming pool with Hardik Pandya and is seen kissing on his cheeks. The fans have felt like loving the couple like this. This photo is becoming viral on social media. Natasha wrote with the picture, 'My sunshine hearty Pandya.' Natasha posted this photo about 10 hours ago, on which around five lakh likes have come so far.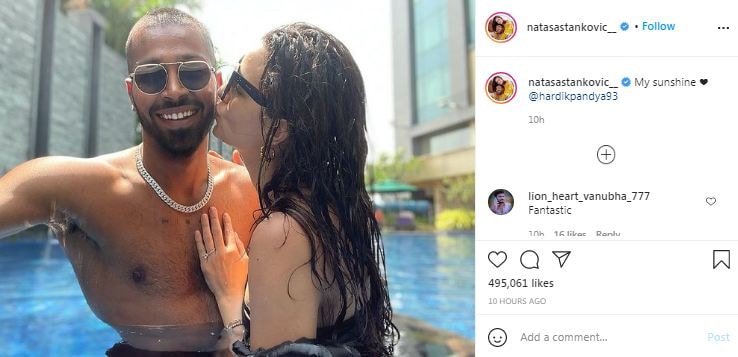 (Photo courtesy Instagram / natasastankovic)
Recently, Natasha celebrated her birthday. On this occasion, Hardik Pandya wrote on social media, 'Happy birthday my baby. It is your birthday, but I think you have given me the best gift as Agastya. I am lucky We have to live together for our lives. 'Like Hardik, Natasha Stankovic is also very active on social media. She often shares her photos and videos. Fans express their love for them by commenting fiercely on their photos. Natasha is a son of Stankovic and Hardik Pandya, whose name is Agastya.
Two days ago, Hardik shared some photos from his Instagram enjoying the pool. In these photos, he was seen in addition to his wife along with his brother Krunal Pandya. Similarly, Natasha shared some of her pictures on Instagram while chilling in the swimming pool. But among all the photos, the fans found this photo the most special.