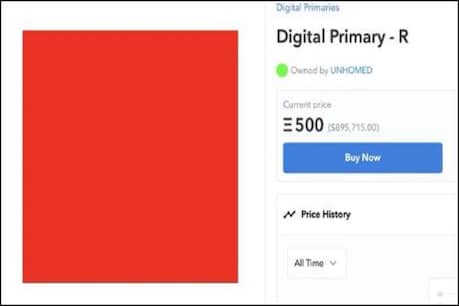 Photo hundred (Twitter- @MKBHD)
Famous YouTuber (Marcus Brownlee) tweeted that a single red pixel is being sold as NXT for $ 9 million.
Washington.
Artist selling unshaded three pixel NFT. The price of each of these pixels is more than 8 million dollars. These digital artifacts are colored green, blue and red. The size of all of these is 1×1 pixels. All these are named G, B and R. At present, no offer has been made for these pixels. But still hundreds of people are showing interest in it. This may also be because Famous YouTuber Marcus Brownlee has tweeted about it. He wrote about it, 'A single red pixel is being sold as NXT for $ 9 million.'
Let me tell you, a New York Times column NFT was sold for over $ 560,000 by Kevin Rose on Friday. Similarly, Twitter CEO Jack Dorsey sold his first tweet on Monday for $ 2.9 million.
A single red pixel selling as an NFT for $900,000. Hm. Right. Got it. pic.twitter.com/OM9DidPbA0

– Marques Brownlee (@MKBHD) March 25, 2021
Also read: Many banks are offering special offers to senior citizens! FD will be a big profit by March 31What is NFT
Is there really an NXT? NXTs are digital properties present in the blockchain. NXT essentially signifies the ownership of a certain physical object. Since it is stored in the blockchain, it is transparent and therefore cannot be copied or stolen. James Fall Murphy, CEO of Future Fallout, writes that just as a concert ticket symbolizes the ownership of a seat's location in the concert arena, and a bitcoin represents the underlying value of the digital currency in physical currency, an NXT is owned by such an item. Is a symbol that has been digitized.