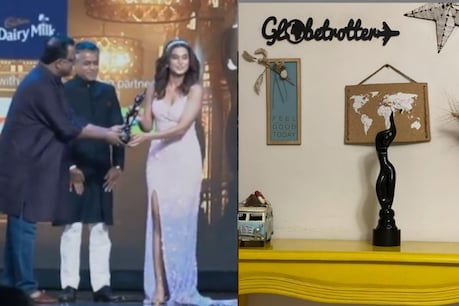 Taapsee Pannu received the Best Actress Award. (Photo courtesy: taapsee / Instagram)
Taapsee Pannu has received the Best Actress (Critic) Award at the 66th Filmfare Award Ceremony for the film 'Thappad'. Taapsee expressed happiness and shared the video on social media and thanked everyone.
Mumbai :
Bollywood actress Taapsee Pannu's film 'Thappad' (Thappad) is once again in the headlines. When this film was released, at that time there was a big debate about the subject of this film. In this film on family problem, Taapsee's great acting was highly praised. For this film, Taapsee has won the Best Actress Award at the 66th Filmfare Awards. Director Anubhav Sinha has also received the Filmfare Award for Best for this classic film.
Taapsee Pannu has shared her happiness on social media. Taapsee has also shared two videos with a photo of the trophy. While sharing the video of the 66th Filmfare Award ceremony, Taapsee has thanked everyone. The actress wrote 'Respect and Happiness', thank you Amrita' with the photo of the trophy. Please tell that in the film, Taapsee has played the role of a woman named Amrita. Anurag Kashyap wrote 'Wah wah' on this post praising him. Fans are congratulating him on this success of Taapsee.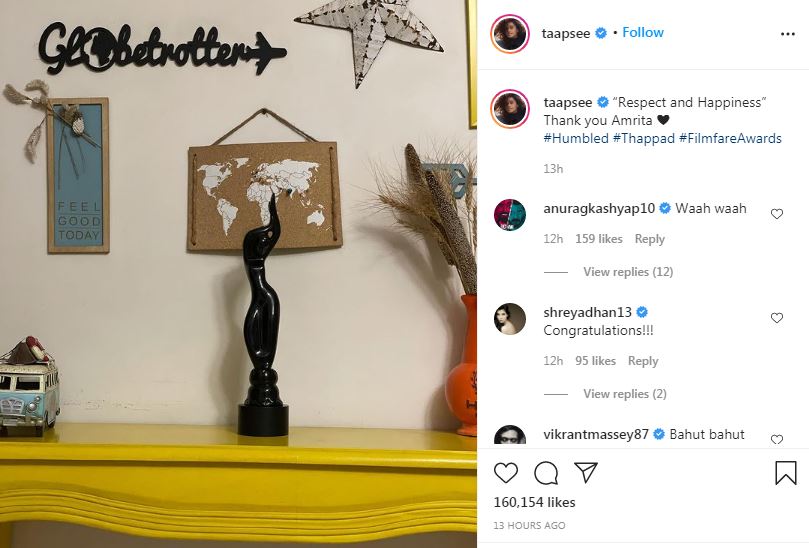 Taapsee Pannu has written a very emotional post by sharing a video, taking the award. Taapsee wrote Shakeel Azmi and Raghav Chaitanya sang the famous song line of the film 'Thappad' 'Because a piece of sunshine is moist inside'.
Another video has been shared on his Instagram account, in which people associated with the film are seen. With this video, Taapsee wrote, 'The team celebrating happiness together is together. 'All the ladies of the slap team'. Along with celebs, fans are wishing them well on Taapsee's videos and photos.
The story of the film is about the self-esteem of an urban family and a woman named Amrita. It has been told in the film that it is very easy for a man to kill a 'slap' but it is heavy on a woman's self-respect.