Maze 2 (file photo)
Shooting of the film 'Bhool Bhulaiya 2' (Bhool Bhulaiyaa 2) was stopped after actor Kartik Aaryan came to Corona positive. There was a question in the minds of the people that whether this film will be released on the scheduled date or not.
New Delhi
Earlier this week, Bollywood actor Karthik Aaryan was reported to have been infected with Corona (COVID-19). Karthik was busy shooting for the film Bhool Bhulaiya 2 in the last few weeks. During this time, he was infected with Corona. He was working in the film along with co-actors Kiara Advani, Rajpal Yadav and Tabu. The film is being directed by Anees Bazmee.
A month ago, it was announced that 'Bhool Bhulaiya 2' would be released in theaters on November 19, 2021. But the shooting of the film was stopped after Karthik Aryan got corona infected. After this, questions were arising whether the release of the film would be delayed. However, this is not the case.
T-Series chief Bhushan Kumar, who is also the co-producer of the film, told a conversation with Bollywood Hungama that the film will be released on a fixed date. He said, 'Bhool Bhulaiya 2 will be released this year. Our actors have been found infected with the corona virus, so there is a slight delay. But we will return soon for the shoot and will definitely release the film on the scheduled date of November this year.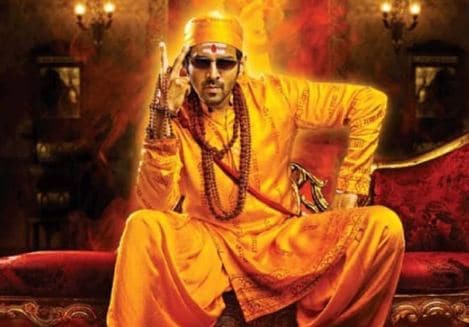 (Photo courtesy Instagram / Kartik Aryan)
The film is being produced by Bhushan Kumar, Murad Khetani and Krishna Kumar under the banner of T-Series and Cine 1 Studios. Anees Bazmee has directed the film and it has been written by Farhad Samji and Akash Kaushik.
Let me tell you that the corona virus is once again affecting the entertainment world. Recently many Bollywood stars including Aamir Khan were found to be Corona positive. The shooting of his most awaited film 'Bhool Bhulaiya 2' was also stopped after Karthik Aryan was hit by Corona.
Previously, the makers of Bhool Bhulaiya 2 had stopped shooting for the film because of the actress Tabu. It was believed that Tabu was in awe of the corona infection, so she was avoiding shooting for the film. Let me tell you that 'Bhool Bhulaiya', released in 2007, was a huge success. In this film, Akshay Kumar, Amisha Patel, Vidya Balan in the lead role did wonders. Now the fans have the same expectations from the sequel of this film.