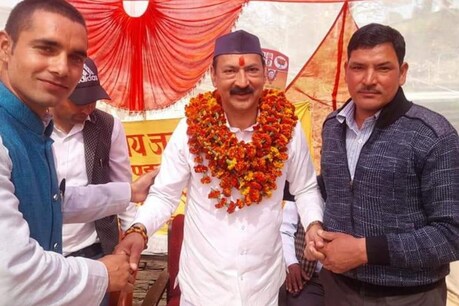 Mahesh will be a BJP candidate in the Salt Assembly by-election.
Sult Assembly By-Election: In the by-election for the Sult Assembly seat of Uttarakhand, BJP made Mahesh Jeena, elder brother of the late MLA, a candidate. Discussion was on to remove Chief Minister Tirath Rawat from this seat.
Dehradun.
The BJP has announced a candidate for the Salt Assembly by-election. The party has declared his elder brother Mahesh Jeena as a candidate on this seat, which was vacant after the death of MLA Surendra Singh Jeena. Gina will file a nomination on March 30. For the third time BJP will play the sympathy card by giving Mahesh Jeena a ticket in the Salt. Earlier, after the death of BJP MLA Magan Lal Shah, his wife Munni Devi Shah and minister Prakash Pant died, his wife Chandra Pant had already contested the election. In both these by-elections, the BJP got the benefit of the sympathy card and it was successful in registering victory.
Detailed news in a while