Color photo with Akshay Kumar's daughter Nitara. (Photo courtesy: Akshay Kumar / twitter)
Actor Akshay Kumar has shared a colorful photo on social media with his daughter Nitara. At the same time, Twinkle Khanna celebrated Holi in a unique way.
Mumbai:
Bollywood players Akshay Kumar and Twinkle Khanna celebrated Holi with great simplicity this time. Akshay has shown a glimpse on social media with his daughter Nitara. Akshay Kumar has shared a cute close-up photo with his daughter with a yellow gulal-filled putty face. The actor has appealed not to play Holi outside, advising everyone to stay at home in view of the corona epidemic. Along with this, the message has been given to be safe with all your loved ones.
Akshay Kumar shared a very cute photo with his daughter on Twitter. Along with this, while congratulating Holi, Akshay Kumar has advised everyone to celebrate Holi safely with the family.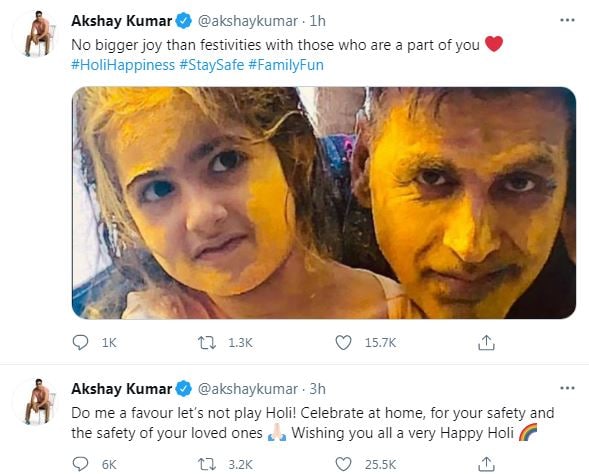 At the same time, Akshay Kumar's wife Twinkle Khanna has posted a video of celebrating Holi in a unique way. The actress has shared the video on Instagram by making cross games on top of the green grass. In this video, Twinkle is seen remembering the games played in childhood, using flowers and stones. Actress and author Twinkle have tried to repeat the old glorious days by celebrating Holi with great simplicity. Wishing everyone Holi along with sharing the video, 'Holi Celebration with Simple Games of childhood'.
In view of the increasing number of patients of Corona in the country, in many states, strict action is being taken regarding Holi meeting. Also, keeping in mind the safety of the people, it is forbidden to gather and play Holi. In such a situation, most of the people are celebrating the festival with their families in their homes. Bollywood stars are also seen giving the same message on social media with the wishes of Holi.