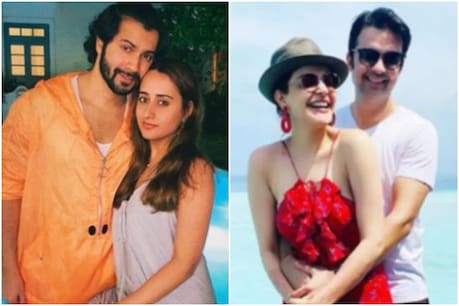 Bollywood Couples (File Photo)
Many celebrities of Bollywood Couple were tied up in marriage some time ago. Among them, the marriage of Varun Dhawan-Natasha, Neha Kakkar-Rohan and Kajal Aggarwal-Gautam was very much discussed. This is the first Holi of these couples after marriage.
New Delhi
Even in this difficult period, many Bollywood celebs were tied in marriage. Some got married last year and some got married earlier this year. Corona may have reduced the celebration of their marriage, but he is celebrating his first Holi with pomp. Today we are introducing you to those Celebrities Couples (Bollywood Couple) who are celebrating their first Holi together after marriage.
South and Bollywood actress Kajal Aggarwal and Gautam Kichlu were married on October 30 last year. They will also celebrate their first Holi after marriage. Actress Gauhar Khan married choreographer and dancer Zaid Darbar on 25 December 2020. This couple may not celebrate Holi with pomp, as Gauhar's father had died recently. A few days ago, Dia Mirza and Vaibhav Rekhi tied in marriage are also celebrating their first Holi. Both married on 15 February 2021.
Neha Kakkar and Rohanpreet (photo credit: instagram / @ nehakakkar)
Famous singer Neha Kakkar married Punjabi singer Rohanpreet Singh on October 24, 2020 last year. Both have also started a pre-Holi party. Varun Dhawan and Natasha Dalal, who made a lot of headlines on social media, took seven rounds with each other on 24 January this year. This is his first Holi after marriage. TV host and singer Aditya Narayan married Shweta Aggarwal on 1 December 2020. And after marriage, both will celebrate their first Holi on 29 March.