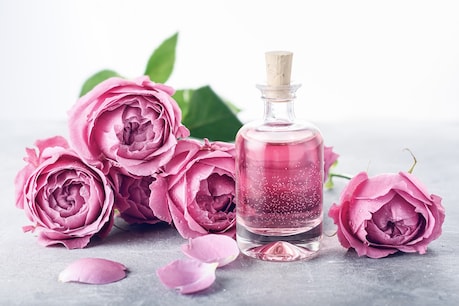 Rose water and tea tree toner are beneficial for the skin. Image / Shutterstock
How To Differentiate Between Rose Water And Tea Tree Toner: Both Rose Water and Tea Tree Toner are very beneficial for the skin, but only if you know how to use them properly.
How To Differentiate Between Rose Water And Tea Tree Toner:
For healthy and naturally glowing skin, skin treatment with the right skin care product is essential. The chemical toxins present in standard skin products disturb the biome of the skin and cause skin problems. While natural ingredients nourish the skin. Although nature has given us many options for natural ingredients, but if you choose the right natural ingredients according to the skin type, then with the skin healthy, it can also get rid of its troubles. In such natural ingredients, rose water and tea tree oil come first, so today we are going to tell you about the use and difference of both. These are effective in the treatment of acne, pigmentation, blemishes. If you are confused too, which of the two should be used, then do not get upset, here we are going to tell you about it.
What works toner
Those who strictly follow a skin care routine know the importance of using toner extremely well. It helps to keep the skin's pores clean, maintain pH and control sebum production. Tea tree oil and rose water are very popular for toner due to the quality of skin problems.
Also read: 2 drops rose water will keep eyes healthy, know its benefitsRose water
Undoubtedly, rose water is a magic potion for the beauty of the skin, which is considered very beneficial for keeping the skin texture and tone healthy. This maintains the natural redness of the skin. With its anti-inflammatory properties, rose water helps to reduce the irritation, stinging, and redness caused by skin irritation. Relieves dermatitis and eczema. The use of daily water cleanses the pores and reduces the formation of dead cells. It is effective in nourishing and moisturizing any skin. With its use, the skin remains refreshed and hydrated. The inclusion of rose water in the beauty routine helps prevent premature aging and aging marks such as facial lines and wrinkles.
Tea tree oil
Tea tree oil is found from Melaleuca, a plant of Australian origin. Anti-Inflammatory Properties are also used to relieve skin irritations due to antiseptic and antimicrobial properties. People suffering from pimples use tea tree toner to reduce swelling and redness. It also helps control the excess oil of the skin. Its toner can be used to treat eczema naturally, reduce psoriasis and relieve irritation.
Tea tree toner also helps in tightening skin pores. It removes makeup and impurities left on the skin and keeps it fresh. The matifying effect of tea tree oil means that it keeps the skin less oily and makes it shiny. Applying it just before makeup helps control the extra shine of the face, so it is also effective in preventing makeup from spreading.
Also read: Use of aloe vera and rose water for oily skin, this way will improve
More benefit from using according to skin type:
Although both toner skin and rose tea benefit toner skin, choosing the best one can help you maintain healthy and youthful skin, according to your skin problem. (Disclaimer: In this article The information and information provided is based on general information. Hindi news18 does not confirm these. Contact the concerned specialist before implementing them.)