Satish Kaushik (Photo courtesy Instagram @ satishkaushik2178)
Actor Satish Kaushik (Satish Kaushik) was hospitalized for the past few days due to being corona infected (Satish Kaushik Corona Report). Satish has returned home after coming to the Corona Report negative, while his daughter Satish Kaushik Daughter is still hospitalized.
New Delhi
Actor Satish Kaushik was admitted to the hospital after the Kovid-19 report came positive. Now he is discharged from the hospital, but his daughter (Satish Kaushik Daughter) is hospitalized after showing symptoms of Kovid-19. Satish's Kovid-19 report allowed him to return home after coming negative, although he was not discharged from the hospital even after his daughter's medical report was negative. The actor is very unhappy because of this. Wishing him to get well soon.
Satish is very unhappy about his daughter's health. According to the reports of Bollywood Hungama, Satish told, 'I will stay at home for a few more days. But my daughter Vanshika is hospitalized for the last five days. His Kovid-19 report has come negative, yet his body temperature is not normal and stable. pray for them.'
The shocking thing about this terrible epidemic is that nothing can be said clearly about it. We believe that it has no effect on young children.
Satish said, 'This is an issue. Nothing can be said about Kovid being certain. Worst of all is that the report of the genealogist's Kovid test has come up negative, yet he is ill. His body temperature remains between 100-101 degrees Celsius. Hearing the cry of their cry on the phone breaks my heart. May God keep his children well in this difficult time. '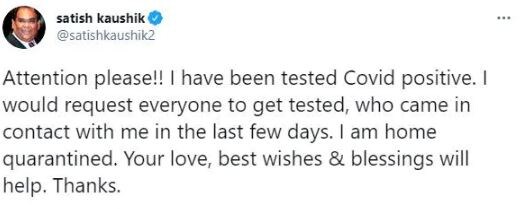 (Photo courtesy Twitter / Satish Kaushik)
Satish had informed about the corona getting infected through a tweet on 17 March. He was admitted to the hospital on the advice of doctors. He was undergoing treatment at Kokilaben Ambani Hospital. For some time, Satish Kaushik had been in controversies regarding the film 'Paper'. He has directed this film which is based on the story of the deceased deceased.
The film is made on a man named Lalbihari, whose cousins ​​and strikers captured all the property by declaring him dead in documents on 30 July 1976. Lalbihari had fought a long battle to prove himself alive.