Shahrukh with his wife (Photo courtesy: Youtube / Lehren Retro)
Like Bollywood celebs, his Holi parties are also very much discussed among his fans.
New Delhi
Today people all over the country are drenched in the colors of Holi. Everyone is wishing each other a happy Holi. In such a situation, the Bollywood Holi Party has once again come into the limelight. However, due to Corona, this time too, Holi of Bollywood is going to be dissolved in color. In such a situation, the fans are entertained by looking at the photos and videos of their favorite stars in the old Holi parties.
One such old video is now becoming increasingly viral, in which King Khan Shahrukh Khan is seen having fun with his wife Gauri Khan. We all know how famous Bollywood Holi party is and every time the stars here have fun in the party here. Look at this old video too.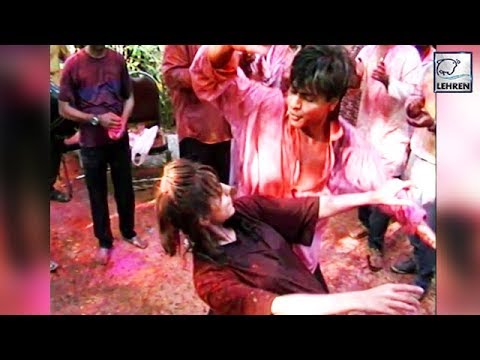 A video of Shah Rukh Khan's Holi celebration is going viral on social media. This video is being told as 21 years old, in which Shah Rukh and his wife Gauri Khan are seen drenched in the fun of Holi. He is seen to be trembling fiercely, painted in the color of Holi. This video is from the year 2000. Apart from Shahrukh and Gauri, all the celebrities of the industry are also seen in it.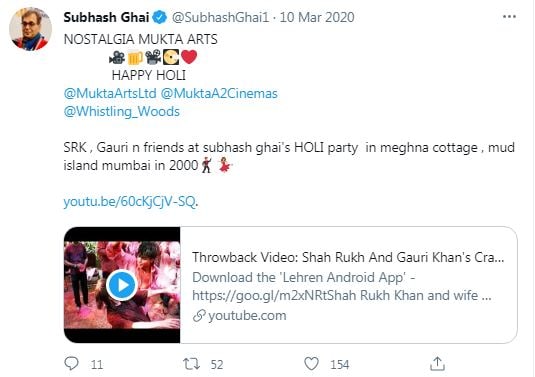 (Photo courtesy: Twitter / Subhas Ghai)
Last year, famous filmmaker Subhash Ghai posted this video on Twitter. He had said through the caption that it was his Holi party. He wrote, 'Memories of Holi Party at Mukta Arts. Shahrukh Khan, Gauri and friends at Subhash Ghai's Holi Party 2000 in Mud Island, Meghna Cottage.