Relations between Nawazuddin Siddiqui and Alia are improving. (Photo courtesy: nawaz / shamasnawabsiddiqui / Instagram)
The relationship between Nawazuddin Siddiqui (Nawazuddin Siddiqui) and his wife Alia (Aaliya) seems to be improving. Alia hinted at removing the ill-fated color of Nawaz's brother on Holi.
Mumbai:
It is said that when wake up only then is Sabera, something similar with Nawazuddin Siddiqui and his wife Alia (Aaliya). Nawaz, along with his strong acting, also remains in the discussion about his family relationships. Relations with his wife Alia had become so bitter that the two wanted to divorce each other. But now the picture seems to be changing, now Alia does not want to divorce Nawaz. Not only this, she is also trying to improve her relationship with Nawaz as well as his family.
On Monday, Alia reached Nawaz's farmhouse, where Alia celebrated the festival of Holi with her two children. Though Nawaz was not at the farmhouse, but his brother Shams Siddiqui was present. The whole family played Holi together. If the news is to be believed, then Nawaz too will soon arrive to spend time with his family.
Talking to the media, Alia said that there are Shamas here. We met with great warmth. Not only this, I played Holi with Shora and Yanni Shams'. At the same time, Shams also said that 'he wants to give away old numbness, ups and downs are an important part of life'. Shamas has also shared the video of Holi celebrations on his Insta video. While sharing this video, along with Nawaz's children, Alia's name has also been mentored.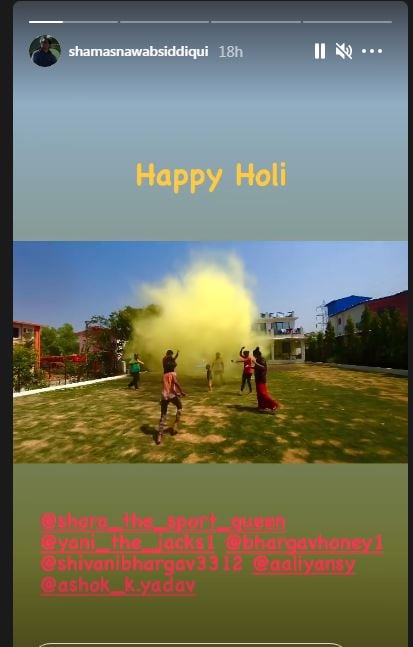 Please tell that Alia had accused Nawazuddin Siddiqui's brother Shamas for assaulting him. While talking to the media some time ago, Alia shared her feeling about Nawazuddin Siddiqui. Alia had told that 'Nawaz is now caring. During Kovid-19, Nawazuddin took special care of him and his children. Seeing the changed look of Nawaz, Alia's mind has melted and she has decided to give her marriage a chance.