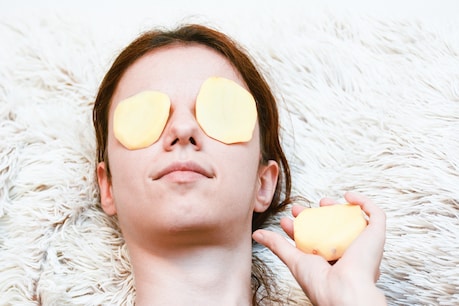 Potato is the solution to your dark circle problem. Image / shutterstock
A lot of stress with changing lifestyles and work pressure. In such a situation, it is common to have a dark circle. If you are also worried about this, then Potato can overcome your problem.
Face is your identity and if you see stains on it, it feels bad. If there is any kind of scar around the eyes, then the beauty of the face gets stained. This also reduces your confidence. In such a situation, it is important that your face is impeccable Actually, in a changing lifestyle where there is a lot of tension with the pressure of work, it is common to have a dark circle. How many people are upset by this. If you are also among these people, then potato can be helpful in solving this problem. Yes, yes. Potatoes contain vitamin C, vitamin A, starch and enzymes, which are helpful in removing dark circles. Potato also gives shine to the skin. Let us know how potato can solve this problem of dark circle-
Potato-lemon juice will give relief
Take a big potato and peel it and grind it. After this squeeze the lemon in it and keep it in the fridge for some time. After some time take it out of the fridge and take cotton and dip it in this mixture and apply it around your eyes. Let it sit like this for 30 minutes. After that wash it with plain water. Use it regularly. Your dark circles will start to fade away.
Also read – Your hair is getting thinner? Must adopt these measuresPotato slices will bring relief
Potato is very helpful in removing dark circles. To use it, you cut a thin slice of potato. Then keep these slices on your eyes. After some time wash your eyes with cold water. This will give relief to the eyes. It will also help in removing the dark circle.
Raw potato will do wonders
Cut raw potato pieces and then grind them slowly under your eyes for 15 minutes. When it dries, wash this part with cold water. Make it regular. Your dark circles will start diminishing. Actually, potato works like natural bleach.
Also read – Get rid of unwanted hair, try this homemade milk wax
Potato-almond is helpful
Potato and almond paste can also be helpful in removing dark circles. For this, soak almonds and make a paste, and then add half a teaspoon of potato juice and add a pinch of sandalwood powder. After this, apply this paste on the skin with dark circles and leave it for some time. When it dries, wash your face with cold water. Your dark circles will start to fade away. (Disclaimer: The information and information given in this article is based on general information. Hindi news18 does not confirm these. Contact the concerned specialist before implementing them)