Shahid Kapoor (Photo courtesy: Instagram / viralbhayani / shahidkapoor)

Recently actor Shahid Kapoor was seen at the airport in Mumbai. The actor wore a mask, black glasses and a face shield to avoid Corona (Shahid Kapoor protection against Corona). Fans are very happy with this style of actor.
New Delhi
Shahid Kapoor has taken the way to escape from Corona to the next level. Actor (Shahid Kapoor photos) was seen going outside the Mumbai airport on Tuesday with full security. Shahid covered his face with a face mask, a spectacle and a thick face shield. This had covered his entire face, making it difficult for him to recognize.
The fans had a lot of fun seeing these pictures of the actor. Some fans also believed that the actor has taken the level of safety far ahead and said, 'It's too much.' A fan laughingly asked, "What fashion is this …" A third social media user jokingly said, "a means of avoiding Holi." While a fourth user asked, "Wow, there is so much fear, why are you leaving out of the house?"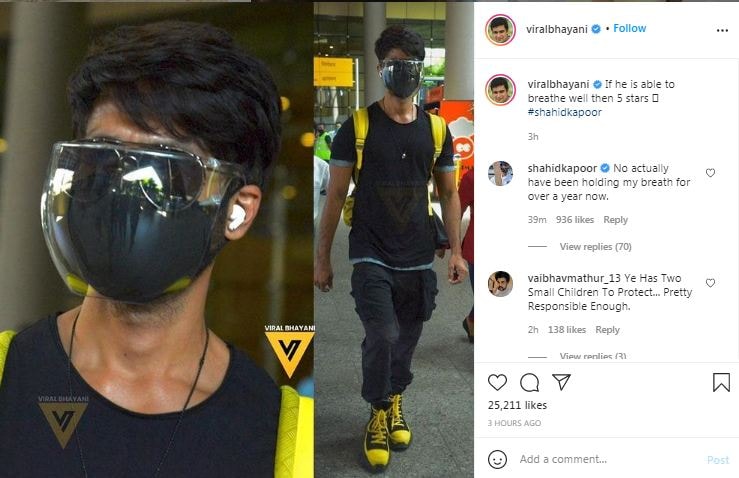 Shahid Kapoor (Photo courtesy: Instagram / viralbhayani)
On Monday, Shahid and Meera celebrated Holi fiercely. Both showered a lot of colors and love on each other. On this occasion, shared a video of the pictures taken, in which Shahid was kissing his wife and the wife was capturing these moments on camera. Meera says, 'Happy Holi! This time I met the real Shahid Kapoor.
It was a memorable Holi of Shahid, but he has spent most of this year working on his next films. The actor will soon be seen in the Hindi remake of the Telugu-language national award-winning film 'Jersey'. The actor has played the role of a cricketer in it and recently completed its shooting. The film also stars actress Mrinal Thakur and Pankaj Kapoor. The actor had previously shared many pictures and videos of the net practice session.
Apart from this sports-themed film, Shahid is busy with his first partnership with filmmakers Raj and DK. He is ready to work in his OTT project. This will be the actor's first film on OTT. Rashi Khanna is with him in this project.